The dangers of glue traps: We rescue cat who was stuck to FOUR
Sadly we deal with many incidents involving glue traps, and often they do not result in happy endings as they can seriously injure an animal which gets stuck on them. This was sadly the case for a cat we rescued after he was found stuck to FOUR glue traps.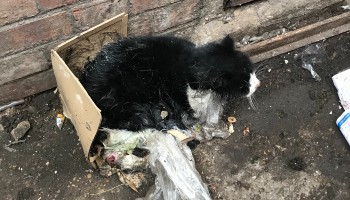 The cat was found by members of the public in an alleyway in Cricklewood Lane, Cricklewood, London on November 29, who called us for help.
The glue traps were stuck to his legs and underneath his body and he had a huge infected wound on his leg as a result.
The cat was in extreme pain
Our inspector Nicole Broster attended and rescued the cat. As she picked him up one of the boards fell off due to his front paws being saturated with glue.
Nicole said:
This poor cat was in an extreme amount of pain from his horrific injuries and he was very scared and frightened.
This is the worst glue trap incident I have ever seen and dealt with. You usually only find one or two that the animal is stuck to, not four. I took him to our Harmsworth Hospital for treatment, but sadly his condition deteriorated rapidly and the vets made the heartbreaking decision to put him to sleep to prevent him suffering further.
The cat, who had been named Miles by staff, suffered a number of awful injuries as a result of the glue traps - his tail had become damaged where it was glued down under the trap and his hind legs had become stuck together.
The traps had also pulled off the fur and caused serious damage to his abdomen and his right hock. He had to be anaesthetised to remove the traps and glue and it took two attempts to remove the majority of the glue which was all over him.
We encourage people not to buy glue traps
Glue traps, also known as glue boards or sticky traps, consist of a sheet of cardboard, plastic or wood coated with non-drying adhesive. Unfortunately, these traps are legal and generally used to catch rodents, whose limbs get stuck to the glue boards as they move across them.
We're encouraging people not to set glue traps because of the dangers they pose to wildlife and pets.
Nicole added:
I find the use of glue traps horrendous and completely unnecessary. People sometimes use them to deal with problems caused by animals like rats and mice but they are cruel and cause awful suffering.
Other animals and non-target species also become victims - in this case poor Miles. If anyone knows who put this trap down I would urge them to contact the our appeals line on 0300 123 8018.
Our scientific officer, Evie Button, said: "We're opposed to the manufacture, sale and use of all glue traps because they cause unacceptable suffering and are totally indiscriminate in what they catch, ensnaring wild animals like birds and even pets.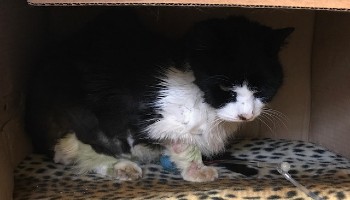 "Once the poor animal is stuck, they begin to struggle to free themselves, and in doing so, more and more parts of their body become trapped in the glue. In their increasing panic and desperation to escape, rats and mice have been found to tear patches of their fur out, break bones, and even gnaw their own limbs off in a bid to be free."
Contact us if you see glue traps on sale
We're currently running a 'Wild Animals and Glue Traps' project. As part of this project, we're asking anyone who sees glue traps on sale to the general public to contact us at wildlife@rspca.org.uk with the following information:
Name and address of the store where the traps are being sold (include postcode where possible)
The manager or owner of the store concerned (if known) and the address if different to above
The date the traps were seen on sale
We will then write to the retailer and ask them to consider stopping the sale of glue traps at their store, remove all glue traps from their stock and not to re-stock them in the future to prevent the problem recurring.
The project has been very successful and many stockists have taken these traps off their shelves. Find out more information on our project.
If you see an animal you have concerns about please call our emergency line on 0300 1234 999 - however, never try to free an animal from a trap as you risk hurting yourself and the animal.
Also, many animals caught by traps are more seriously injured than you think, so it is best that they are examined properly to see if they need veterinary treatment. Stay back to avoid stressing the animal and call us with the location.
---