A terminally ill collie dog is looking for a loving home
The RSPCA is looking for a loving family to offer palliative care for Ella, an 11-year-old collie with suspected cancer of the liver. With love and affection, Ella can enjoy a comfortable end-of-life.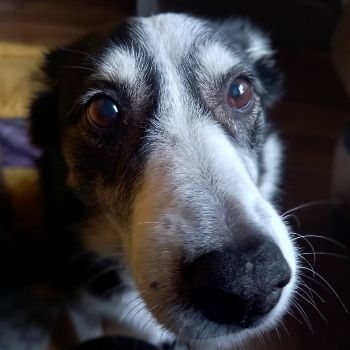 Lovable Ella came into the RSPCA's care after her previous owners were unable to look after her. At the time she was overweight and needed veterinary care. A full health check showed that sadly she has a suspected cancerous liver.
The severity of cancer led to vets developing a palliative treatment plan, which includes supplements to help support her liver function and regular blood tests to monitor her health. Cost options for this will be discussed with potential adopters. Despite her health, Ella is comfortable and has a good quality of life.
Kate Whitehead, from RSPCA Northamptonshire Branch, said:
It is incredibly sad that Ella has this illness; however, she's such a loving dog who will really bring a lot of joy to a family.
We understand that many people might be put off because Ella won't be around for as long as a younger, healthier dog, but the time she has left will be incredibly special.
She absolutely adores cuddles and is a lovely companion, she really is the sweetest girl. Ella enjoys playtime and has the sweetest personality.
The branch is looking for a palliative home for Ella within Northamptonshire to live out the rest of her life. She would suit being the only dog in the home. Ella would be fine living with children over the age of 10 years who are familiar with dogs.
Kate added,
It's really important that we find the right family for Ella. This isn't an easy ask and I'm sure it'll be emotionally difficult for her adopters. We really hope there's someone out there who's willing to help and show her love for the rest of her life, as all dogs deserve.
How you can help
Could you offer a loving home to an animal like Ella? Find out more about rehoming a pet today.
To help the RSPCA continue rescuing, rehabilitating and rehoming animals like Ella please donate online or call our donation line on 0300 123 8181.