Ten year ban for man who neglected his horses
A man who failed to provide appropriate care for his horses has been banned from keeping equines for ten years.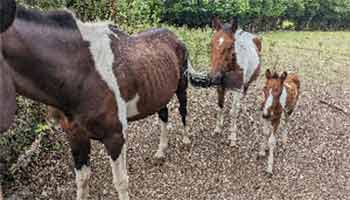 John Holland of Tapmoor, Moorlinch, Bridgwater in Somerset was sentenced after admitting two animal welfare offences, following an investigation and prosecution by the RSPCA.
Alongside the 10-year disqualification, which he cannot appeal to have lifted for seven years, Holland was ordered to carry out 150 hours of unpaid work and pay £400 costs.
The animal welfare charity attended a field off Castle Hill in Banwell on 3 August 2022 alongside equine charity World Horse Welfare (WHW).
The WHW had previously left advice for Holland on 29 July and had ongoing concerns about the lack of water being provided for the horses.
Inspector Kim Walters, who investigated for the RSPCA, noted that there was no available water and no grazing left in the field, just the remains of dirty mouldy hay being eaten by the horses.
There were also numerous hazards in the field, ragwort, loose wire, nails and sharp edges of machinery, corrugated iron sheet, and broken glass surrounding the black water container.
Holland was told to make urgent improvements, including providing a constant supply of fresh drinking water and supplementary feed.
During follow-up visits by inspector Walters, further concerns were raised for the horses. On September 14 Holland signed an RSPCA animal welfare assessment warning notice, which advised him of the Animal Welfare Act 2006 and that he must provide the basic needs or possible offences that may be being committed.
On a follow-up visit on 23 September, inspector Walters observed that there was no further hay provided for them and they looked quiet and dull, with three of the horses in poor bodily condition with ribs and spines visible.
The horses were seized by police and examined by a vet, who deemed three to be suffering as a result of their treatment.
The vet concluded that a lack of feed provision led to hunger, muscle breakdown and lethargy for the horses.
A mare, named Girl, also had a foal at foot who was relying mainly on her mother for nutrition. Her poor body condition will have reduced milk quality and quantity, causing her foal to suffer from hunger additionally.
The vet report said:
The field contained minimal grazing which would not provide enough forage to sustain the number of horses present. There was no evidence of supplementary feed being given to the horses, which would have been required in order to meet their dietary requirements and prevent hunger.
The pasture was contaminated with ragwort, commonly known by horse owners to be poisonous to horses and a threat to the horses' health. There were objects in the pasture including wood with nails protruding, broken shards of hard plastic, machinery and wire mesh on the ground, which could easily cause injury to the horses. For these reasons, I do not believe that the environment was suitable for the horses.
In mitigation, it was said Holland has been involved with and looked after horses all his life – so it's a big thing for him to accept he has fallen short in his care of them.
Holland was sentenced when he appeared before North Somerset Magistrates Court on April 14.