Ten rabbits abandoned in boxes
Ten rabbits were found crammed in cardboard boxes and pet carriers and dumped by the side of the road on New Year's Eve.
We're investigating after the bunnies were found shut inside two pet carriers and a cardboard box without any food or water. They were left on the side of the road in Sandringham Drive, Dartford, in Kent.
Inspector Kirsten Ormerod, who is now investigating, said: "We believe the rabbits were abandoned at some point overnight on New Year's Eve or on New Year's Day. Some of the bunnies are very young so we suspect this may be a case of an unneutered pair or group of rabbits having unplanned babies which the owners simply couldn't cope with."
Kirsten added:
With pet ownership soaring during lockdown and the impact of the pandemic starting to hit families financially, we're concerned that more pets - like these sweet buns - could end up being abandoned by owners who are struggling to cope.
During the pandemic, pet ownership has surged with estimates of more than 3.2m people taking on new pets. With the return to work, the end of furlough and the worrying rise in prices and energy bills, especially over the cold winter months, we fear the increased stress and pressures will see a rise in abandonment of animals.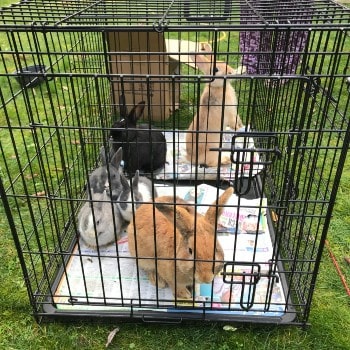 Animal abandonment levels have risen to almost pre-pandemic levels and we fear this year could be even busier. With 3,004 abandonment incidents in England and Wales last winter, we fear that rising abandonment rates will see more animals facing a bleak winter.
During recent months, abandonments have risen by around 20% (compared to 2020 figures), and we're worried that soaring pet ownership during the pandemic could mean a surge of abandoned pets as people return to normal working life.
Thankfully, these rabbits are all okay and have now been taken into our care. Officers are making enquiries in the local area but are also appealing for information from anyone who may be able to assist with the investigation.
"If anyone knows where these rabbits came from or saw anything suspicious in the Sandringham Drive area on December 31 or January 1 then we'd urge them to contact our appeal line on 030 123 8018," Kirsten added.
To help us help more abandoned animals this winter, like these needy bunnies, please Join the Rescue and donate to keep our rescuers on the road responding to calls.