Teenager's virtual concert raises thousands for animal charity
A teenager from Brighton has raised more than £5,000 to help animals in need by putting on a virtual concert.
Henry Liu, 17, who attended The Pilgrim's School, the choir school of Winchester Cathedral, as well as achieving music and academic scholarships at Eton College where he studied his GCSEs, showcased his musical talent in an online fundraising video.
The concert includes recitals of songs like Elton John's Your Song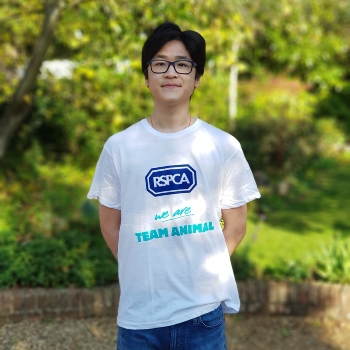 Before the lockdown, Henry, who aspires to be a vet, had been volunteering at our Patcham Animal Centre in Brighton but when the pandemic meant he could no longer do this he decided to raise money for us instead.
The 27-minute video which was posted on YouTube includes Henry's recital of Debussy's Clair De Lune and George Gershwin's The Man I Love, as well as Elton John's Your Song which was recorded on Henry's piano at home during the height of the lockdown. It also includes vocals from his friend Ebube Chiana which were recorded separately and added together for the video. Including Gift Aid the concert has raised a whopping £5,989 so far.
Why Henry decided to raise money for us
Henry said:
Although the NHS is undoubtedly deserving of every penny they have received for caring for those severely affected by COVID-19, a lot of attention has been diverted from other charities which are also in need of donations.
Over the lockdown, the RSPCA has had to shut off their centres to the public, meaning much needed help from volunteers has not been available. Alongside this, the worry is that due to many people's changes in circumstances, they can no longer take care of their pets and have been abandoning them.
On top of all of this, they have seen a huge deficit in income and have had to reduce their expenditure to stay open. This means the RSPCA needs every donation they can get to take care of our animals and this is why I wanted to do the virtual concert.
I'd like to say thank you to Brighton College for allowing me to record the concert in the Sarah Abraham Recital Hall, to Frank Considine for the production, and to Ebube Chiana for his wonderful performance.
Watch Henry's virtual concert on YouTube
To support the cause and donate, visit Henry's JustGiving page.
If you've been inspired to use your talents to raise money, check out our fundraising ideas.
---