Swooning swans are reunited just in time for Valentine's Day!
We were able to reunite two loved-up swans, named locally as Bonnie and Clyde, just in time for Valentine's Day.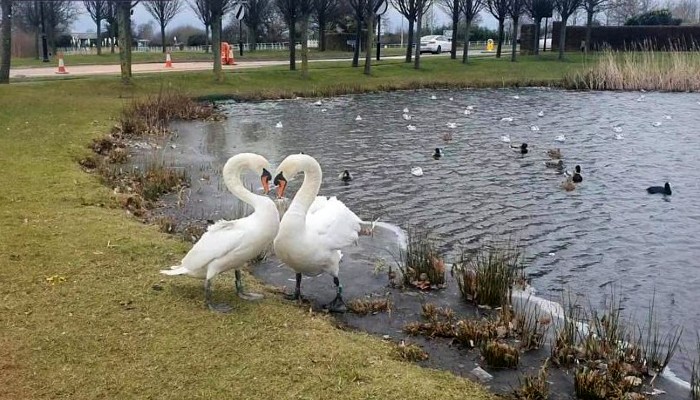 We rescued the female swan on January 18 from a lake in Wychwood village near Crewe, after she had been spotted by a member of the public with a leg injury.
Our water rescue team were launched to catch Bonnie and bring her to our Stapeley Grange Wildlife Centre in Nantwich for care.
She remained there for just under a month before being released back into the wild on Sunday, 14 February, when she was reunited with her mate Clyde.
Lee Stewart, our centre manager at Stapeley Grange, said:
Love was really in the air when we released Bonnie back into the wild.
When she was released, she bounded towards her mate and almost immediately the pair made the shape of a love heart with their long necks. It was a lovely moment!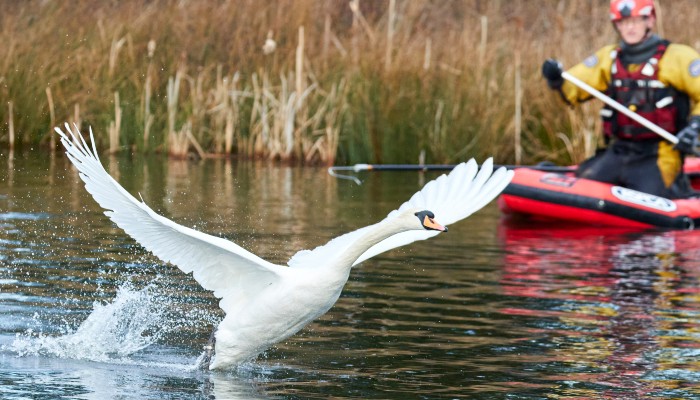 Lee added:
"Unfortunately, Bonnie's leg has been severely deformed for some time due to an old injury, which means she'll always be lame, and as a result, she'll likely develop chronic arthritis at some point but one of the reasons we were happy to return her with the stable limp is the fact that she'll be monitored daily by the Wychwood community, so they can flag up any issues over the coming weeks and months."
Bonnie is a bit of a celebrity in the park and so will be well looked after and fed daily, which makes up for the fact that she may be at a slight disadvantage with her condition. She's also around 20 years old - the average lifespan of a swan is around 10 so Bonnie is doing very well for her age!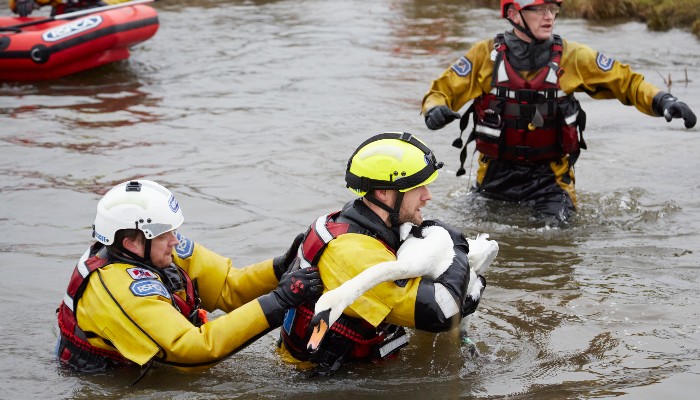 Our animal welfare officer Steve Wickham, who led the rescue of 'Bonnie', added:
"This was a tricky rescue as the female swan was quite feisty so it took four of our water rescue team to bring her to safety using two rescue rafts. It was obvious as soon as we got her on land that her leg was bowed so I'm so pleased that our wildlife centre was able to care for her and release her back to her mate for Valentine's Day!"
Throughout the winter months, we expect to rescue thousands of animals from neglect, cruelty and suffering. Already this winter, we've received more than 82,000 calls but they're not stopping so neither will we.
To help our rescue teams continue to reach the animals who desperately need us, Join the Winter Rescue.