Swan is reunited with mate after crash landing in Middlesbrough garden
A couple in Hemlington got a surprise after a swan crash landed in the front garden of their property.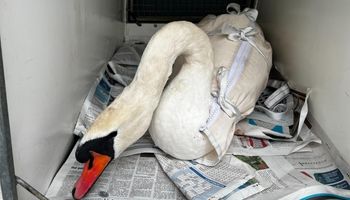 The male swan was heading to nearby Hemlington Lake when he veered off course and came down just over a mile away at a house in Eddison Way.
RSPCA inspector Clare Wilson attended the scene after the homeowners - who had seen the bird land in their garden - contacted the animal welfare charity for help.
A thorough check up by the inspector found that the swan had thankfully not sustained any serious injuries following the incident on 11 March, and he was reunited a short time later with his mate who was waiting for him back on the lake.
Clare said:
Luckily the front garden was fenced which helped to contain him, although in any event he wouldn't have been able to take off as swans need a long run before taking flight and there wasn't enough space for him to be able to do that.
When I arrived he was walking around the garden and appeared quite feisty, so I was reasonably confident he hadn't sustained any injuries. Swans do get their bearings wrong from time to time, and given the lake's close proximity, it appears that's what happened in this case.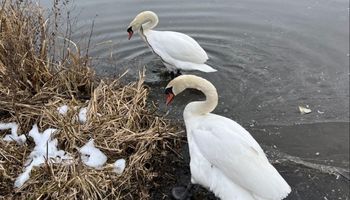 As well as the dangers of being blown off course in stormy weather or being injured by fishing litter, water birds such as swans and geese can sometimes confuse roads or car parks for rivers or lakes while flying overhead and can then come in to land on a hard surface, which can cause injury.
Sadly, the charity's officers are also regularly called to the lake to deal with incidents involving swans and other birds who have become caught in discarded fishing tackle at the site.
Line, hooks and netting can have a terrible toll on animals and water birds are particularly vulnerable.The RSPCA is encouraging everyone who enjoys fishing at Hemlington Lake to be extra cautious to make sure nothing is left behind and to follow the Angling Trust Take 5 campaign, making use of recycling schemes to dispose of their waste tackle safely and responsibly.
In line with the UK Government's current advice, if you find a sick or injured bird do not approach or handle the bird yourself due to the ongoing and severe UK-wide avian flu outbreak which is continuing to spread through bird populations.
If you are concerned about a bird that appears injured or is in need of help please review our advice online or contact us via our live chat.