Animal lover takes part in a Peak District challenge to help the 'unsung heroes of lockdown'
An animal lover from Rotherham is fundraising for us by taking part in a trek through the Peak District in Derbyshire.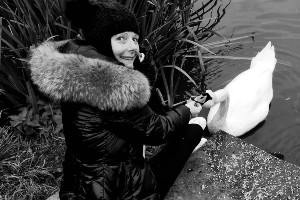 Katherine Keedy, a healthcare worker at Rotherham General Hospital, is taking on a 15-mile trek across the Peak District in July this year to raise money for the RSPCA.
Kathy said:
"The last year has been difficult for everybody and completely life changing. I think everyone with pets is so lucky - your dog is someone to get you up in the morning and out for a walk, or your cat can come and sit on your lap on the sofa. Pets have become such a comfort to people throughout the lockdown and I wanted to give something back to animals, as I think they are the unsung heroes of Covid."
Kathy isn't able to have pets herself so she regularly borrows friend's dogs to take them for long walks and she also developed an unlikely friendship with a swan in her local park.
Kathy added:
When I was out on my walks, I would see this same swan with her cygnets. Unfortunately, the male swan was injured as he flew into a pylon but 'mamma' swan, as I called her, was still there with her cygnets. The days I went down there and sat with her really lifted me up! I'd call her name and she'd come swimming over to me, it was so lovely.
Sadly, the female swan was missing for a couple of days and Kathy later found out that the poor swan had an accident and died.
Kathy added:
I will remember our bond and be grateful as seeing her got me through some dark days.
Many owners have found their pets a real source of comfort throughout the lockdown and as people have been out on walks more often than usual, they are also finding that nature and wildlife can help to lift their spirits, just like Kathy has.
This is why she decided to do the Peak District challenge for us, so we can continue to help those animals who desperately need us.
Kathy has set a £500 fundraising target after initially smashing her £255 target already.
Support Kathy's challenge on JustGiving.
If you're inspired by Kathy's challenge, find out more about taking part in your own trek.