Influx of wildlife as spring baby boom hits
Spring is springing and that triggers one of the busiest periods for our teams.
Our officers and wildlife staff are busy as the baby boom begins amid a surge in calls about baby wild animals who need help.
Whether they've been attacked and injured by another animal, separated from their mum, or even orphaned, we're always there to help baby animals in need.
In 2021, we admitted 3,992 juvenile wild animals, including fledgling birds, nestlings and juveniles. Here are just some of the adorable chicks and cubs our dedicated, expert staff are currently taking care of:
Fox cubs
A tiny fox cub is being cared for by expert staff at West Hatch Animal Centre, in Somerset, after being found alone, raising concerns with members of the public.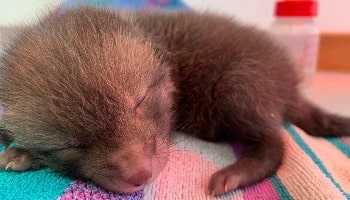 Another little cub was taken into a vets in Great Yarmouth, Norfolk, by members of the public who found him on 16 March and were concerned for his welfare. The cub was taken in by East Winch Wildlife Centre nearby and then arranged for him to be moved to Stapeley Grange Wildlife Centre, in Cheshire, where staff have specialist facilities to rehabilitate young foxes.
Another rescuer was called out to concerns about a fox cub in Stourport, Worcestershire, in March. The tiny orphaned fox was found crawling along the verge prompting fears she had been orphaned. She was taken into care and is now being hand-reared at Cuan Wildlife Centre, in Shropshire.
And a litter of six fox cubs were rescued by an off-duty vet who was out walking in Swaffham, Norfolk, on 23 March, when she heard them crying under a bush near to their mother who had sadly been killed on the road. She took them in overnight and contacted us the following day and they were taken by a wildlife casualty volunteer to East Winch Wildlife Centre, in Norfolk, for specialist care.
The cubs still had their eyes closed and were thought to be between six and 14 days old.
It can be common during April and May to see fox cubs above the ground during the day and adults are usually nearby watching over them. You may also come across cubs waiting for their mother.

If you see a cub it is best to leave them alone unless it is necessary to intervene if they are in immediate danger, if their eyes are closed, or if they seem sick or injured. If the cub is in immediate danger then move them to a sheltered spot nearby and provide some dog or cat food and water. Check on them in 24 hours and if a mother hasn't returned, please contact our team for help.
Ducklings
The team at West Hatch Wildlife Centre, Somerset, are taking care of a number of baby animals, including their first duckling of the season who arrived in March having been found alone.
Baby ducks don't often stray far from their parents so if they don't return within two hours or you fear they've been orphaned, please call us or a local wildlife rescuer for advice.
Please do not disturb duck families but if you're concerned they're stuck in an enclosed space, please provide a safe route to leave without handling the ducks yourself. If they need moving, please call our hotline for assistance.
Cygnets and Goslings
The East Winch Wildlife Centre team, in Norfolk, is looking after an adorable cygnet who was rescued on 25 March from Grantham, Lincolnshire, after being found alone. A member of the public grew concerned as the tiny bird was being harassed by cats and a wildlife casualty volunteer went to collect him.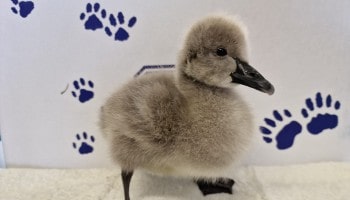 Staff kept him warm and cosy by keeping him with a cuddly toy swan for him to snuggle up to.
Cygnets and goslings don't normally stray far from their parents so mum will normally be close by.
If you're concerned, please monitor from a safe distance. If their parents don't return within two hours or they've been killed, contact our hoteline, a local wildlife rehabilitator or a vet for advice.
Leverets and rabbit kits
A sweet little leveret was hand-reared by experts at East Winch Wildlife Centre, in Norfolk, after being brought in by a member of the public on 2 March whose son spotted him hiding under the equipment at a park in Sedgeford. He was cared for and released on 9 April.
Leverets are normally left alone from an early age and, often, for long periods of time - like fawns. Their mother returns to feed them, usually around dusk. If you¿re concerned about a leveret who you believe is sick or injured please seek advice before approaching.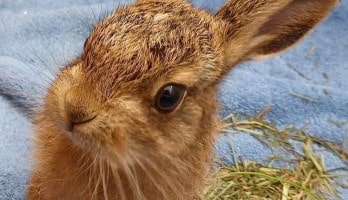 Four tiny baby bunnies were rescued and taken to be hand-reared after being found in a nest in a delivery of sand by a group of builders in Scarborough, North Yorkshire, on 10 March.
Inspector Beth Boyd went to collect the nest of kits who were huddled together in a delivery bag of sand. The kits, thought to be around 12-14 days old, were taken in by an experienced rehabilitator to be hand-reared before being released.
A mother rabbit will close her kittens into a burrow and return to nurse them once a day.
Kits will start to emerge from the burrow at about 18-days-old and will look like mini rabbits. If they're above the ground with their eyes closed then something may have dug them out and they may struggle to survive - please call us if you find one in this situation.
Owlets
Animal rescue officer Helen Chapman was called out to two owlets who'd been spotted in Rochdale, Lancashire, just minutes apart. An experienced rescuer, Helen could hear mum in a tree calling for them nearby so she kept them warm and safe in a cardboard box before placing them at the base of their tree where they managed to climb back up to their mum.
Healthy owlets have fluffy brown feathers and pink eyelids. They go through a 'branching' phase where they leave their best but can't fly. Adults use calls to locate them and feed them on the ground.
Owlets can climb vertically back up trees into their nests so you should leave them where they are unless they're in immediate danger, in which case please call us for further advice.
Badger cubs
A tiny badger cub was found by a dog and brought in by the dog's concerned owner on March 19 and rushed into the team at Mallydams Wood Wildlife Centre, in East Sussex. Experts fear he'd been displaced from his sett by another badger or disturbed by another animal.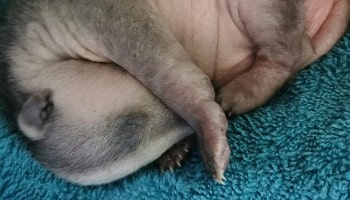 Staff took the tiny cub home for regular night feeds to stabilise him before passing him to the team at Folly Wildlife Rescue so he could join their group of cubs for rearing and socialisation.
Now named Freddie Mercury, he will remain in their care until September when he's big enough to be released back into the wild.
Badger cubs stay below ground and begin to emerge at around eight to ten-weeks-old but remain reliant on their mothers for some time.
If you find a cub on its own who looks healthy and has open eyes, monitor it from a distance for at least 24 hours. If you're worried they may be alone, leave them with dog food and water and check on them 24 hours later. Don't get too close or touch them as they can bite.
Contact our team or a wildlife rescuer for advice if the badger is in immediate danger such as in a hazardous location, appears sick or injured, or there are signs that their sett has been damaged.
Otter pups
An otter pup was found by a member of the public near a bridge in Boston, Lincolnshire, all alone. They took him to a local vet who called us for help.
An animal rescue officer went to collect the little baby and he was taken in by East Winch Wildlife Centre, in Norfolk, before being moved to the specialist team at Stapeley Grange Wildlife Centre, in Shropshire, where he'll be cared for until he's big enough to be released.
If you come across a baby otter please watch from a distance ideally for 24 hours or at least overnight to see if the parents return. If they don't, please call us for help.
When to help baby animals and when to keep your distance
We'd urge people to take care around wild animals, to keep a safe distance and to report any concerns to our emergency line.
Wild animals - even babies and youngsters - can bite or scratch when frightened, particularly if they are injured or sick.
Take particular care around birds, due to the current bird flu outbreak - please read our for more detailed guidance about what to do if you're worried about a sick, injured or orphaned bird.
If it is safe for you to catch and handle an animal then:
Wear suitable gloves;
Quickly place into secure cardboard box with ventilation holes, lined with towel or newspaper;
Keep the animal calm and quiet;
Take the animal to a vet, one of our four wildlife centres or local wildlife rehabilitator (please note not all have been inspected by the RSPCA);
Always call first, to make sure they're open and can treat the animal.
---