Sick dog dumped at train station believed to be puppy farm
We're investigating after a sick Jack Russell terrier was abandoned at an Essex train station in a terrible condition.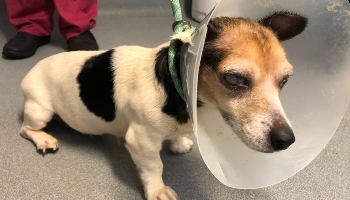 The terrier, thought to be around eight-years-old, was taken into a veterinary surgery in Waltham Abbey by a woman who claimed she had seen the dog being abandoned on the train station platform.
Our inspector Jen Wildman said:
"We were contacted on 4 December by the vets at the clinic. A member of the public had brought the little terrier in after witnessing her being dumped on the platform at Waltham Abbey train station that afternoon.
"The witness said she saw the tan and white terrier being left on the platform and, when she approached the woman, she said she had to leave and catch a train. She was worried about the dog so brought her to a nearby vet, where staff alerted us."
Penny has been left blind
The terrier, now named Penny, wasn't microchipped and had no collar, ID tag or lead.
Jen added:
"Poor Penny was in a real state. I went to collect her and took her to our Harmsworth Animal Hospital, in north London. She had scrapes and scabs on her face and back, and has terrible infections in her ears and eyes. Her eyes were so bad she's been left completely blind and may need an operation on one which is incredibly swollen and sore.
"It was clear that she'd been used for breeding and has likely had many litters over her lifetime. Sadly, this is the reality of the illegal, underground puppy trade. While there is always a concern for the puppies who are often being sold underage, sick and frightened, it's the dogs who are used for breeding who live lifetimes of misery."
Jen explained:
Dogs like poor Penny are behind-the-scenes, shut in dark, cold rooms, with no regard for their health or welfare, and forced to churn out litter after litter of puppies. Then, when they get old and can't reproduce any more or their health problems catch up to them and make them really sick, they're dumped like rubbish. It's disgusting.
She continued:
"This is, unfortunately, possibly the reality behind your Christmas puppy. Penny looks likely to have had a litter recently so we believe she may have been used to produce her final money-making litter - ready just in time to cash in on the festive rush - before being cast aside because of her expensive health problems. She's reached the end of her shelf life. It's heartbreaking."
Penny will remain in our care while she receives the veterinary treatment she needs. Jen has launched an investigation and is making enquiries locally to find out who's responsible for abandoning Penny, and allowing her to get into such poor condition.
Investigation launched
She said:
"I'd like to hear from anyone who may have seen Penny being left at the station, between 3pm and 4pm, on Friday 4 December. If you can help please contact our appeal line on 0300 123 8018.
"Penny is such a sweet, lovely-natured little dog and she's already winning over the hearts of all of our staff at Harmsworth. She's got a long way to go before she's ready to find a lovely new home, but she's such a little darling that I'm sure she'll be snapped up. Thank goodness she never has to suffer again and will soon be in the wonderful home she deserves after a lifetime of cruelty and neglect."
Earlier this month, we launched our #ForPupsSake campaign calling on the Government to stop puppy imports, which is fuelling the awful puppy trade here in the UK. We're asking for the minimum age puppies can be imported to be increased from 15 to 24 weeks and also want to see tougher enforcement and more checks at the borders.
Join our campaign and send a letter to the Secretary of State.
---