Shy Toby spends 18 months looking for paw-fect home
An older dog has been waiting for 18 months to find his forever home but is struggling to win over a new owner due to his shy nature.
Ten-year-old English bull terrier Toby has been patiently waiting in kennels at Ashley Heath Animal Centre, in Dorset, for 18 months but still hasn't found his paw-fect match.
Animal care assistant Emily Green has been taking care of him. She said: "Toby is a sweet, cheeky chap who, despite his age, still has a spring in his step and has a big character.
"Unfortunately he's a shy lad when he meets new people and can be a little nervous around strangers so we've found potential adopters struggle to see the real Toby. Once he gets to know you, however, he's such an affectionate lad with so much love to give."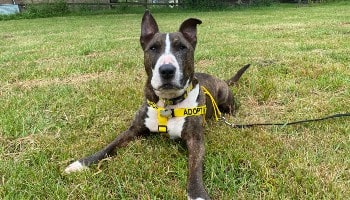 He was rescued in January 2020 and was underweight and incredibly nervous when he first arrived at the centre.
Emily said: "It took us days to get poor Toby out of his kennel, he was so frightened, it was heartbreaking to see. Sadly, he'd had a tough life and we don't think he'd ever experienced a loving home before so he¿s had a lot of adapting to do.
"When, a few weeks after he arrived, he played with his toys for the first time it was really emotional. He was finally starting to come out of his shell and he's since shown himself to be such a lovely boy.
"He loves belly rubs and playing ragger games, he enjoys exploring on walks and cuddling up to his teddy for a snooze. He's an absolute sweetheart and we're all so desperate to see him in a loving home and not in kennels."
Toby is unsure of other pets and needs a special home
Toby is looking for a special home with owners who can meet his needs and help him adapt, with support from Ashley Heath staff. They'd like to find owners who have some experience with the breed, and who live in a quiet area in an adult-only home without any other pets as his previous experiences have left him unsure of others. Toby is also on daily medication for some health problems.
The behaviour team have spent lots of time working with Toby to help him and now feel he's ready to continue his work in a loving home environment. They predict the transition to a home environment could be challenging for Toby but will support his new owners in helping him to settle into a new routine.
Emily added:
Anyone who considers giving Toby a chance will really be helping a dog in need. With time, training and consistency we know Toby will make a rewarding and loving companion. We think people have been put off by his shyness and old age but we're committed to finding him the paw-fect home; we know it's out there. And whoever they are will be very lucky to have this lovely boy.
Find out more about Toby on Find A Pet or contact Ashley Heath on ashleyheath@rspca.org.uk or 0300 123 0749.
---