We're asking animal lovers to share the love this Valentine's Day
We're asking animal lovers to help needy animals and donate at the Pets at Home fundraising weekend this Valentine's Weekend.
Every year we team up with the retailer to raise funds to help us continue to rescue and care for animals in need. This year will be no exception with customers given the opportunity to make a donation to us at the till throughout the weekend (12-14 Feb).
Sarah Colberg, our senior corporate partnerships manager, said:
"We know that many things have changed over the last year but we're thrilled that Pets at Home is still able to support the fundraising weekend which raises vital funds to help animals in need. We rescue over 100,000 animals a year and so fundraisers like this are vital in ensuring we can continue to rescue, rehabilitate and rehome animals in desperate need of care. Our centres and branch colleagues can¿t be in-store this year due to on-going Coronavirus restrictions but they will be supporting the event digitally and hope that shoppers in-store will show a little love to RSPCA animals on Valentine's Day."
Animals looking for love
Over 400 Pets at Home stores are taking part and last year the weekend raised £31,000 to help needy animals like these loved-up pairs.
Brussel and Sprout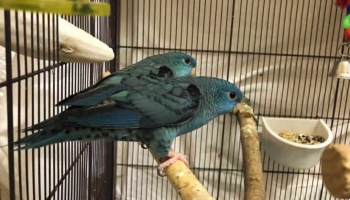 Brussel and Sprout are a pair of teal blue lineolate parakeets who came into our care in November as their owner couldn't care for them properly. They were very nervous and it was clear they had very little handling or socialisation in their previous home.
These two best friends are slowly gaining confidence now and will make lovely companions. Contact our Ashley Heath Animal Centre in Ringwood, Hampshire, for more information on giving them a home (please note they can only rehome up to 1.5 hours away from the centre) or email ashleyheath@rspca.org.uk.
Patch and Smudge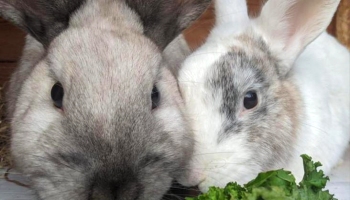 We rescued rabbits Patch and Smudge along with 18 of their babies after a breeding situation had got out of control.
Smudge can be a little shy but loves her treats which is the best way to win her round. Patch is a gentle boy and loves attention. They are both active bunnies and will need lots of toys and enrichment to keep them entertained.
Contact our Cheshire (Altrincham) branch for more information.
Smudge and Narla
Cats Smudge and Narla are best friends who came into our care through no fault of their own. Smudge is the older of the two and the most affectionate while Narla can be a little timid but soon comes round with a little help from her buddy. They would be best suited to an adult-only home without any other pets.
Contact our South Yorkshire Animal Centre for information.
Sarah added:
For many of the animals in our care, this could be the first time they've experienced love and care. We rescue some of the most abused and neglected pets so from the moment they come into our care - when they are rehomed and beyond - we work extremely hard to make sure their life is now filled with lots of love.
Bella the beagle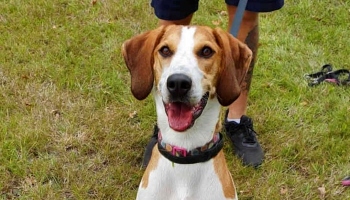 Bella is a one-year-old beagle and lurcher cross. She had been in four different homes by the time she was seven months old and being passed from one owner to another has left her with some emotional scars. She was very scared and under socialised with dogs when she arrived at our Millbrook animal centre in Surrey and she had no suitable training or recall.
The centre staff have worked hard to improve Bella's socialisation and confidence but her new owner will need to continue this with support from the centre. Bella is cheeky and full of energy and is looking for an experienced owner.
For more information or to rehome Bella contact our Millbrook Animal Centre.
Show animals love this Valentine's Day
Help us share the love this Valentine's Day weekend by donating whatever you can at the Pets at Home checkout:
Donating just 50p could provide a meal for a hungry animal
Giving £1.50 could feed a dog for two days
Donating £2.50 could give a cat some nutritious treats
Extra heart-felt gifts
£3.50 could feed a cat for a week
£5 could buy a special toy for an abandoned dog
£10 could provide the comfort and warmth of a nice blanket
This week is also Payroll Giving Week (8-14 February) which aims to raise awareness about the benefits of donating through this easy and tax-efficient method.
You can also donate online and join our winter rescue.
---