Seal rescued by RSPCA now happy in France
A common seal pup who was cared for by staff at our East Winch Wildlife Centre has been spotted relaxing on a beach - in France!
Salsa, as he was named, was spotted in Boulogne-Sur-Mer harbor on the North coast of France earlier this month and looked very happy as photographer Jean-Luc Bourgain captured him doing a 'banana pose' with his flippers in the air.
Salsa came into our care in June 2021 as a young orphan - from Heacham South beach in Norfolk - weighing just 12kg.
He was cared for by staff at the centre for four months to ensure he was strong and fit enough to return to the wild. He was released into the Wash in October weighing a healthy 39.5kg.
Evangelos Achilleous, centre manager at East Winch, said:
We were so delighted to hear that Salsa has been spotted looking so well - and that he was all the way over in France enjoying his new found freedom!
He added: "We remember Salsa in particular as he was very cheeky, he would always remove the plug in his pool and drain the water out several times a day so we would have to be very innovative in making sure the water stayed in. We even tried putting weights on the plug but Salsa would usually outsmart us, until he was moved into the outdoor pools - which fortunately don't have plugs!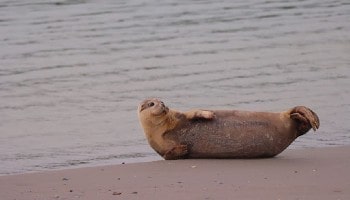 "Sadly we do see seal pups coming into our care regularly due to being orphaned, malnourished and, more lately, due to dogs attacking them.
"If you are concerned about the welfare of any animal please call us and if you do see a seal please maintain a respectful distance and keep dogs on leads around seals."
Photographer Jean-Luc Bourgain is a member of the National Stranding Network, which monitors marine animal sightings.
Jean Luc said: "I could tell from my research into the tag number that Salsa had been in the care of the RSPCA so I got in touch in the hope of finding out a little bit more about the seal.
"It's been great to find out a bit more about his background and to be able to let his previous carers know that he is doing so well."
If you would like to support the work of the team at East Winch, they have an Amazon Wish List of items to help them care for the animals in their care.
What to do if you see a seal pup on the beach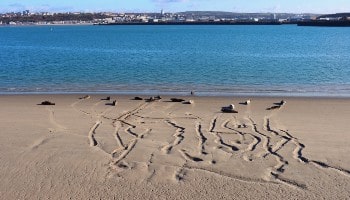 We advise the the public never to approach seals and to keep dogs well away and on a lead, as these are wild animals who can have a nasty bite.
It's not unusual for seal pups to be left alone for short periods of time so if you spot a youngster who looks fit and healthy, it is best to monitor them from a safe distance for 24 hours to ensure a parent returns.
An unhealthy seal pup looks thin (but not bony) and has a visible neck, like a dog. If the mother doesn't return within 24 hours or you think the pup is sick or injured, please call our emergency line on 0300 1234 999.
Please never try and return the seal to the water yourself.