RSPCA's 'Wildlife Friends' are making a difference
Wildlife volunteers recruited by the RSPCA are making their mark as part of the Big Help Out to mark the King's Coronation.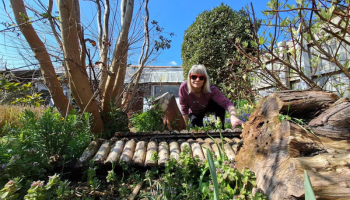 From litter picking to rewilding gardens or to building habitats where wild animals can thrive, the animal charity's volunteers have thrown themselves wholeheartedly into the project, which was launched on March 20.
The RSPCA believes the volunteering initiative can 'make a difference' for the nation's wildlife - and is empowering individuals to do their bit to help.

Since the recruitment drive kicked off, more than 500 people have signed up as a 'Wildlife Friend' and have joined thousands of others making a difference as part of the large volunteering initiative to mark the Coronation celebrations on May 8.
Among them is Judi Simmons, who carried out a litter pick on her own around her home town of Wareham in Dorset.
Green-fingered Judi (pictured) then went on to demonstrate her creativity by building a log pile to provide a habitat for the hedgehogs and field mice that are frequent visitors to her garden.
Judi, who is in her 60s, has previously undertaken some micro-volunteering for the RSPCA, such as signing online petitions to support the charity's campaigns and sending letters to her local MP. But she says she was enthused by the idea of getting out into the great outdoors to help wildlife and complete some tasks she could fit around her day-to-day life as a carer.
Judi said:
I was spurred on to sign up as a Wildlife Friend because I love animals and am so sickened by cruelty and neglect towards them that I want to help in any small way I can, and to be a force for good.

We have got several hedgehogs and mice in our garden, so I thought it would be really nice to create somewhere for them. I've built a log pile from old wooden lawn edging pieces. As well as being something for the wildlife it is also a really nice feature in the garden too.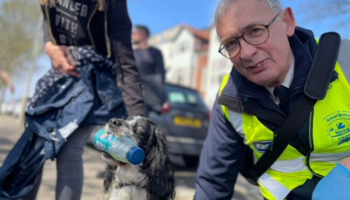 Meanwhile, staff and volunteers at RSPCA Scarborough and District Branch organised a litter pick on Sunday, April 16 to highlight the importance of protecting wildlife and animals from the dangers often posed by our daily rubbish.
In all, the 17-strong group collected 27 black bags of litter along Castle Road, the streets surrounding the Scarborough Arms and Scarborough's harbour front.
The collection boosted the total number of litter bags recently picked by RSPCA staff across England and Wales to 367, including during Keep Britain Tidy's Great British Spring Clean.
RSPCA lead wildlife officer Geoff Edmond (pictured with Harvey, one of the volunteers' dogs) said:
It was really encouraging to see the Scarborough Branch collecting litter at the end of the Great British Spring Clean and to promote the recruitment of our 'Wildlife Friends' volunteers.
We enjoy our wildlife but we must all take responsibility for safeguarding the welfare of it. By removing all this rubbish the risk of injury and even fatality really will be reduced. If people also want to make a difference for wildlife then I would urge them to head to our website and sign up as a Wildlife Friend with the RSPCA.
The Scarborough branch shop at Aberdeen Walk in the town will be the venue for a 'Wildlife Friends' week in the run-up to May 8. Geoff and a 'Wildlife Friend' volunteer will be available to talk about how people can get involved in the Big Help Out and beyond, and will be illustrating the sort of tasks that can be undertaken to help wildlife.
By becoming Wildlife Friends people make a pledge to volunteer their time on and before May 8 to complete small tasks to support, nurture and protect the wildlife with which they share their communities.
'Wildlife Friends' includes a choice of simple ideas and, in many cases, involves people making just small contributions to help wildlife on their doorstep either on their own, as part of their family or group of friends, or even in the wider community.
For example, volunteers can:
Organise a litter pick
Plant wildlife-friendly plants in gardens and window boxes
Build nest boxes for wild animals
Make a bug hotel to encourage minibeasts into gardens
Put food out for hedgehogs or create a hedgehog highway
Get together with neighbours to start a wildlife project
Join 'No mow May' and make a habitat for butterflies, bees and insects in gardens
Recreate wildlife-friendly ideas from RHS Chelsea
Join online social media groups and signpost RSPCA advice about wildlife
RSPCA Chief Executive, Chris Sherwood, said:
We are recruiting 'Wildlife Friends' to give people the chance to join thousands of others making a difference at the Big Help Out on May 8.
We all share our neighbourhoods with wonderful wildlife and we need to protect them - so by becoming an RSPCA Wildlife Friend, animal lovers can join with their community to make a safe space for the animals who share our world.
RSPCA head of volunteering Brian Reeves added:
We can all do our bit for animals and 'Wildlife Friends' is great for anyone who can spare a few minutes or a couple of hours. These things will all make a huge difference for wild animals, and their welfare - and we're hoping even more amazing volunteers join us as part of the Big Help Out between now and May 8.
---