RSPCA welcomes COP pledge to cut methane emissions but calls for more focus on reducing the consumption of animal products
RSPCA welcomes COP pledge to cut methane emissions but calls for more focus on reducing the consumption of animal products
The RSPCA welcomes the latest announcement at the COP26 summit to cut emissions of methane gas by 2030, but says without action on human diets, it focuses on the symptoms, not the cause.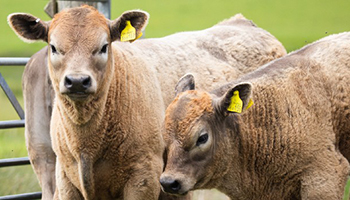 The animal welfare charity cautiously welcomed this move by the US and EU as it finally puts agriculture and farm animal issues onto the COP26 agenda. However, the charity has concerns that there are no targets for individual countries or details on methods of delivery or enforcement.
The RSPCA is also concerned that this announcement, unless followed rapidly by a major agreement on changes to human diets and food systems, ducks the issue of consuming animal products. Not tackling the overconsumption of meat, eggs and dairy is a major omission in the fight against climate change.
The Climate Change committee has said it's important to reduce meat and dairy by 20% by 2030 and 35% by 2050. The RSPCA, as a member of Eurogroup for Animals, has a target of 50% by 2050.
Emma Slawinski, Director of Advocacy and Policy at the RSPCA, said:
We welcome this announcement to cut emissions of methane gas, though we are very keen to understand the details of how and where this will be implemented. However, we feel this is a narrow view of the impact of farming and food production on climate and nature and sadly doesn't address the fundamental question of reducing our consumption of animal products. Our 'Eat Less, Eat Better' campaign encourages people to buy higher welfare products and reduce the amount of meat and other animal products they consume as we know this will have a significant impact on animal welfare and the environment.
Agriculture is a major driver of climate change and nature destruction. Intensive farmings' model of large numbers of animals, living together in crowded conditions, producing concentrated waste, and being fed grain grown on soil supported by artificial fertilizers is putting our ability to meet climate targets at serious risk and this needs to be addressed.
The RSPCA is encouraging people who eat animal products to 'eat less' meat, fish, eggs and dairy and, when they chose to eat such products, to 'eat better' and select products from animals reared to higher welfare standards, such as those products labelled with the RSPCA Assured logo.
As well as impacting the welfare of animals on farms, and the environment, eating less and better, and a move away from intensive farming, can help to protect wildlife and companion animals.
---