RSPCA welcomes new Plan at 'critical juncture' for animal welfare
We've welcomed the publication of the Welsh Government's new Animal Health and Welfare Implementation Plan 2022-2024 - and hope the document will pave the way for "big improvements" at a "critical juncture" for animal welfare in Wales.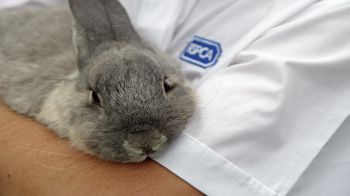 Our calls come after the Welsh Government published the final Implementation Plan under the current ten-year Framework.
The plan expands on the Welsh Government's Animal Welfare Plan for Wales - including more detail on proposals for a national model for regulation of animal welfare, improving the qualifications for animal welfare inspectors and requiring CCTV in all slaughterhouses.
It's also hoped the two years which follow bring substantial progress in the licensing of Wales' animal exhibits, sanctuaries and other welfare establishments, potentially through expansion of the Animal Welfare (Licensing of Activities Involving Animals) (Wales) Regulations 2021.
Improving farming in Wales
There's also positive news for Wales' farm animals, as the Implementation Plan contains positive suggestions of how animal welfare could be included in a new Sustainable Farming Scheme, including rewarding farmers for outcome-focussed achievements, and recognising higher welfare standards as part of the new post-Brexit agricultural payment plan.
Within the plan, the Welsh Government also acknowledges the interdependence of animal welfare and human wellbeing, and the role improved animal standards can play in tackling climate change - also key messages of the new RSPCA strategy.
Our head of public affairs David Bowles said:
We welcome the publication of the Implementation Plan, and more information about the Welsh Government's upcoming animal welfare plans.
We face a critical juncture for animal welfare, as the post-Brexit landscape continues to emerge, and with the sector hit so hard by Covid-19, but we're hoping for big improvements ahead.
The regulation of animal welfare establishments and exhibits will play a key role in helping in securing consistent welfare standards and will offer vital reassurances to the public - while it's great to see this document not only focus so clearly on the importance of responsible pet ownership; but on the wider benefits of good welfare standards too - including human wellbeing, and tackling climate change.
We also hope the Welsh Government will be a strong advocate for positive change across the UK - including championing the highest standards in plans for a Great Britain-wide approach to restricting the use of cages for farmed animals; and in lobbying for maintaining high welfare standards as post-Brexit trade agreements are signed.
The Plan also includes positive signs about plans to reward higher welfare standards as part of Wales' post-Brexit farm payments plan. This is the biggest opportunity to improve farm animal welfare in the history of devolution - but this should not only focus on disease prevention and biosecurity, but good husbandry and higher welfare practices, underpinned by a recognised assurance scheme.
However, we hope Ministers in Wales go further for animals in the years which follow - with hopes for a roadmap to meet the Welsh Government's pledge to ban the use of snares and glue traps.
David added:
While there's much to welcome in this Implementation Plan, we hope the Welsh Government will go even further in the coming years.
We await more information on the Welsh Government's pledge to ban the use of snares and glue traps in Wales, while it is hoped issues like banning the giving of pets as prizes, ending trail hunting on public land and promoting higher welfare food procurement will all be on the agenda in the coming years.
And as the UK Government progresses with its Animals Sentience Bill, there are big questions in Wales about how we scrutinise all Welsh Government policy for its impact on animal sentience; as we bid to create a Wales where all animals are respected and treated with kindness and compassion.
---