RSPCA welcomes landmark bill which will end live exports after 50-year campaign and tackle cruel puppy imports
RSPCA welcomes landmark bill which will end live exports after 50-year campaign and tackle cruel puppy imports
A new animal welfare bill, which includes plans to end live exports after 50 years of campaigning, has been welcomed by the RSPCA.
Published today (Tuesday 8 June), highlights in the Kept Animals Bill include a proposal to end live exports of animals, tougher regulations on the imports of puppies, powers to restrict the imports of dogs with cropped ears, a ban on keeping, breeding and trading primates as pets, more powers to protect livestock from dogs and better regulation of zoos.
RSPCA Chief Executive Chris Sherwood said:
This bill marks a crucial milestone in animal welfare as we are set to become the first country in Europe to end the live export of animals for slaughter and fattening. We at the RSPCA, alongside many others including those who have been witness to the animals' distress year in, year out, down at the ports, have campaigned for more than 50 years to end this practice which causes unimaginable stress and suffering to animals.
We are also thrilled to see measures to crack down on the import of puppies - this is a cruel trade where criminals get rich selling sick and dying puppies to unsuspecting families, a trade which has boomed during lockdown. Steps to end the import of dogs with cropped ears will also send a powerful message against the painful and unnecessary mutilation of dogs for fashion and a ban on keeping primates of pets will also mean these amazing animals will no longer be kept in homes where they simply cannot be cared for properly.
This is a really important time for animal welfare and, if we get it right, we can make real and lasting changes to the lives of animals here and abroad.
Live exports
The RSPCA has been campaigning to end the practice of exporting live farm animals such as cattle, sheep and pigs for decades. Long distance journeys which can be days long (from Scotland to Spain for example) create unnecessary suffering including mental exhaustion, physical injury, hunger, dehydration and stress from the extremes of heat or cold.
Emma Slawinski, the RSPCA's Advocacy and Policy Director and a long-time campaigner against live exports said:
Having followed lorries packed with sheep or calves down to Kent over many years, and witnessed the lorries boarding the ship at Ramsgate, I am so delighted that this awful trade is coming to an end. The faces of the animals pressed against the slatted sides of the lorries, sometimes with limbs poking out through small gaps, the smell from the lorries and the animals' distressed calling will stay with me forever.
We can really celebrate this as a great day for animal welfare in the UK, and a victory for all those who have campaigned on this issue for decades; including the local activists in Kent who have never let that ship sail without protesting. The government's action will prevent a great deal of suffering. We know the public care passionately about these issues and will share the RSPCA's delight in the ban.
Puppies and dogs
The RSPCA welcomes regulations to limit the number of dogs an individual or vehicle can bring into the UK, along with proposals to increase the age of imported puppies and banning the import of pregnant dogs.
Travelling long distances as a young pup is stressful and a real welfare issue. Buying an imported puppy leaves new owners open to the very real risk they are supporting cruel puppy farming, with the parents kept in terrible conditions, used as breeding machines with sick and dying pups, with no real way of buyers checking conditions. There are also risks of serious disease and future behaviour problems which can leave owners distraught.
The trade has boomed during lockdown - annual statistics released by APHA in February showed the number of dogs imported into the country for commercial reasons from the EU increased by 52% from 39,562 in 2019 to 60,190 in 2020; while the number of imports just from Romania increased 67% from 19,489 to 32,525 and now represent more than half (54%) of all EU imports.
Case Study: Isla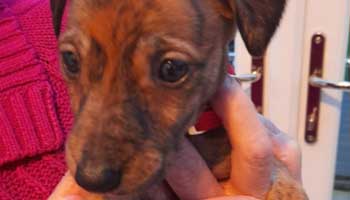 Retired Cambridgeshire couple Rick and Susan Smith were looking for a new dog to join their family when a friend spotted an advert on Pets4Homes for 12-week-old collie cross whippet pups.
They made the two-hour journey to Warwickshire to meet the puppies on 18 December, handed over £600 and left for home with their new dog, Isla.
Susan said:
We were concerned about how small the puppies seemed and asked several times how old they were. But they explained they were small due to their breed. We asked if we could have the paperwork for their vaccinations and they said they couldn¿t give us the hard copies due to Covid but they¿d email them to us. Needless to say, they never did.
Isla had diarrhoea as soon as they got in the car so the couple decided to take her straight to their local vet when they arrived home. Vets estimated her to be just six-weeks-old and said she was underweight and very sick. Just a few days later - on Christmas Day - she deteriorated.
Susan added:
We'd just finished eating our Christmas lunch when the phone rang. It was the vet. Isla had deteriorated and tested positive for parvovirus. There was nothing more they could do for her; and we had to make the heartbreaking decision to have her put to sleep.
Proposals to introduce powers to restrict imports of dogs with cropped ears are also welcomed by the animal charity. While ear-cropping in the UK is illegal, the practice is legal or unregulated in many countries, with celebrity culture and an increase in bull breeds seen in advertising making the 'look' more popular.
Ear cropping is a painful procedure carried out for cosmetic purposes - often to make the dogs look fierce but it can be detrimental to their health, behaviour and welfare. The RSPCA has seen reports of ear cropping surge by more than 600% in the past six years.
Case Study: Nine puppies had ears cropped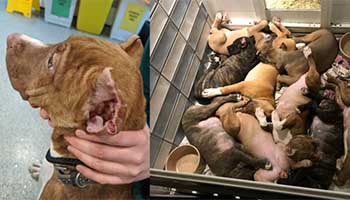 A man was jailed in May 2021 after admitting he had paid £3,000 to someone he didn't know to crop the ears of a litter of nine puppies. Responding to a complaint made by a member of public, an RSPCA Inspector visiting the defendant's house had found the puppies with red, crusty unhealed ears.
The court heard that the defendant had intended to sell the puppies and despite knowing they were suffering, had not provided any pain relief following the procedures.
RSPCA dog welfare expert Dr Samantha Gaines said:
Ear cropping is a painful process which is carried out purely for cosmetic reasons and is often done to make a dog look more intimidating. It can, however, have lifelong implications on the dog's health and behaviour.
Dogs can suffer from infected wounds as well as chronic ear infections, while some may remain incredibly sensitive and head shy for their whole lives. Dogs use their ears to communicate with other dogs and with humans and some cropped dogs coming into our care have demonstrated behavioural problems caused by an inability to do this normally.
Primates as Pets
A complete ban on primates being kept as pets is long overdue. Primates are intelligent, sentient and highly social animals with complex needs that simply cannot be met in a domestic environment.
Just like humans, primates can become depressed without adequate stimulation. They need a spacious and enriched environment that challenges their intelligent brains and allows for them to behave like primates should. But RSPCA inspectors still see shocking situations where monkeys are cooped up in bird cages, fed fast food, sugary drinks or even Class A drugs, deprived of companions of their own kind, living in dirt and squalor and suffering from disease.
Case study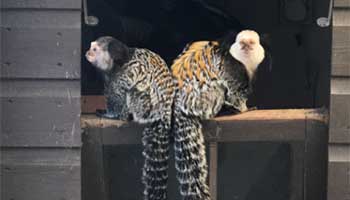 Three marmosets living in the bedroom of a house were signed over to the RSPCA after concerns about the living conditions of the trio were raised with the RSPCA.
When the RSPCA Inspector visited the marmoset owner's home to investigate, although they had the run of a bedroom, it wasn't an appropriate home for intelligent wild animals that have evolved to live in the treetops of South America. The marmosets were not only at risk of injury, but they didn't have access to UV light to help grow healthy bones and were in danger of developing metabolic bone disease (known as rickets in humans) as a result. They needed access to an indoor and outdoor enclosure with lots of climbing structures, hiding places and environmental enrichment to express natural foraging, hunting and feeding behaviours.
Although the RSPCA officer made some recommendations to the owner, she found on a revisit that those changes hadn't been made. The owner realised he couldn't meet the animals' needs and agreed to sign the three marmosets over to the RSPCA to be looked after properly.
The RSPCA also cautiously welcomes proposals in the Bill to change the current laws on livestock worrying and to improve zoo standards and looks forward to working with Defra on the fine details.
---