RSPCA warns that Australia trade deal could set a dangerous precedent on animal welfare
As the UK today announces a deal with Australia agreeing tariff free imports of beef and lamb by 2036, risking imports produced to lower animal welfare standards than those permitted here, the RSPCA warns that it could set a damaging precedent for agreements with other countries and threatens a race to the bottom.
The animal charity is urging the UK government to ensure that the deal includes non regression clauses on animal welfare and safeguards against beef coming into the UK that has been injected with hormones when it agrees the specific terms in the coming months.
Supermarket shelves stocked with food from countries with much lower welfare standards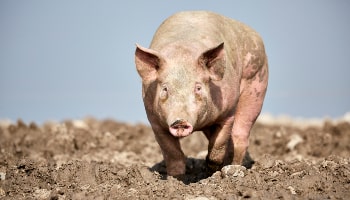 Consumers could soon be facing supermarket shelves stocked with food from countries with much lower welfare standards than the UK, such as imported beef from cattle raised on enormous, bare feed-lots and suffering transport times of up to 48 hours, pork from pigs that have been forced to breed in restrictive sow stalls or chlorine-washed chickens raised under filthy conditions. And concerningly, as the UK's procurement standards allow in low welfare imports, these products could even find their way onto the menus of public sector organisations and into the meals of school-children and hospital patients who don't have a choice about the origins of their food.
Cheap low quality imports could also undercut farmers and, if more trade deals follow suit, devastate the UK's farming industry.
Despite the government promising in its manifesto that it would not undermine animal welfare standards post-Brexit, the 15 year phase out on tariffs on beef and lamb - seemingly without animal welfare conditions - hints it has gone back on its commitment and let down animals, the British public and farmers in its desperation to sign a major trade deal.
RSPCA Chief Executive Chris Sherwood said:
"We are concerned to hear that a tariff free deal has been done on beef and lamb and need reassurance that there will be equivalence to our standards on any imports in the deal. So we now urge Boris Johnson to take every step he can to safeguard animal welfare with the details of the agreement.
"This agreement with Australia could set a worrying precedent if it welcomes imports produced to lower animal welfare standards than those allowed in the UK through the unconditional reduction in tariffs on sensitive issues such as beef and lamb. The UK public doesn't want to see these low welfare products on supermarket shelves. And it's worrying that UK school children or sick hospital patients could be served this low welfare food without even having a choice in the matter. Low welfare imports also threaten UK farmers' livelihoods.
"As our first trade agreement since leaving the European Union, it is really vital the government gets it right and ensures our welfare standards are safeguarded or it could give a clear signal to other countries that the UK's international trade policy has no red lines when it comes to upholding animal welfare standards.
"In Australia it is legal to mutilate the rear end of sheep, sometimes without anaesthetic. Egg laying hens are kept in battery cages and chicken can be washed with chlorine. Cattle may never see a blade of grass and almost half the herd are given growth hormones."
Assurance needed from the government
Chris Sherwood continued:
"Unless a high bar bar can be established now, UK trade negotiators' hands will be tied when they try to clinch higher welfare deals with other priority countries such as the USA, Canada, Brazil and Mexico, all of which have lower animal welfare standards than the UK.
"We have been delighted by the groundbreaking progress on UK animal welfare policy in recent weeks, with what seems to be a road map to world-leading standards. Now, we need assurance the government will not sacrifice those standards in its desperation to sign its first major trade deal since leaving the EU. Hurried through before the Trade & Agriculture Commission was set up, this potentially low-welfare Australia deal feels like it has been nodded through, with no formal independent mechanism to scrutinise it to ensure higher animal welfare standards were at the heart of the agreement.
"The UK should be proud of its animal welfare standards and strive to maintain and improve them, but there's a danger this is being sold out for the sake of a quick trade deal."
To help the RSPCA continue rescuing, rehabilitating and rehoming animals in desperate need of care please donate online or call our donation line on 0300 123 8181.
---