We're thrilled as Sentencing Bill moves to next stage
We're thrilled that the Animal Welfare (Sentencing) Bill has passed its committee stage this week.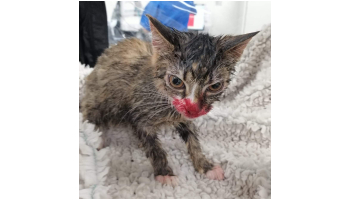 We've been calling for tougher sentencing for the worst animal abusers for years - and hope that MPs from across the parties will come together to pass the Bill for the good of animals across England.
Today, the Animal Welfare (Sentencing) Bill - brought forward by Chris Loder MP - was debated by MPs and passed its latest stage to become law. Next, it'll go to the Report Stage and Third Reading before heading to the House of Lords.
What this means for England and Wales
In 2017, the UK Government pledged to reform the maximum sentence for those prosecuted under the Animal Welfare Act in England, increasing maximum prison terms from six months to five years. A pledge supported by cross-party politicians.
In Wales, the Welsh Government is expected to put a legislative consent motion before the Welsh Parliament - meaning any change in the law in England would likely apply in Wales too.
England and Wales currently have some of the lowest sentences for animal welfare offences in the world. Northern Ireland, the Republic of Ireland and Scotland have recently increased their maximum sentences to five years and we want to see the sentences here brought in line.
Heidi Allen, our director of advocacy and policy, said:
"We warmly welcome the news that the Bill has passed through this stage and is one step closer to becoming law. We believe all political parties are aligned in their desire to get the Bill onto the statute book in this parliamentary session - in other words before the next Queen's Speech which is expected in May.
"Because MPs and Peers agree with us that no suffering animal can afford to wait another minute. We believe the will exists to speed the Bill through the House of Commons and House of Lords if the UK Government allows time for it.
"Every day the RSPCA receives reports of unimaginable cruelty and neglect being inflicted on animals and it's time that the sentences imposed on individuals who cause pain and suffering to animals reflect the severity of the crimes they are committing.
"The current sentences available to courts dealing with abhorrent acts of violence against animals as well as serious, organised animal crime are completely inadequate. It's time this changed and our courts had more power when it comes to sentencing the perpetrators of these hideous crimes. So we implore all MPs, Peers and the Government to do everything they can to get Chris Loder's Bill through."
Some of the crimes we investigate include
Maisie and Lola
In December, a Somerset man was jailed for 23 weeks and disqualified from keeping animals for life for mistreating a 10-month-old cat called Maisie and a three-year-old Jack Russell terrier called Lola.
Maisie was presented to a vet surgery after the man claimed he'd found her drowning in the bath but vets found her to be dead and found she had 31 rib fractures, three spinal fractures and a dislocated sternum.
Lola was underweight and being kept in a small cage, with seven rib fractures which hadn't been treated by a vet.
Our inspector who investigated the case said:
During sentencing, magistrates described the case as the top end of the scale in terms of severity, noting that the defendant was responsible for deliberate and gratuitous suffering, prolonged ill treatment and neglect leading to death and serious injury with multiple injuries caused on more than one occasion.
Man attacked a young cat attacked
Also in December, a Bath man was jailed for 18 weeks and disqualified from keeping animals for life after attacking a young cat called Betty Boo. Several eyewitnesses saw him attacking the kitten outside his flat before two women intervened and rushed her to the vet.
She was soaking wet, hypothermic, had a laceration to her right nostril, a bloodied mouth, nasal discharge and was missing some teeth. Vets also found that she had fluid in the airways, which was supportive of attempting drowning, and radiographs revealed she had air within the thorax, a common after effect of chest trauma. It was also found that Betty Boo had bruising around her neck.
Man beats his dog in a lift
In December, a West Midlands man was jailed for eight weeks and disqualified from keeping animals for life after being caught on CCTV beating his dog in a lift.
The footage showed eight-month-old Presa Canario Rico entering the lift looking nervous and cowering in the corner before being kicked and stamped on. He was so frightened that he wet himself.
UK one of the lowest to penalise animal abuse
Chris Loder MP said:
Today, in the House of Commons, we're one step closer to increasing tenfold the maximum custodial penalty for those who abuse animals. The UK has some of the highest animal welfare standards in the world, but in terms of penalties, we're currently amongst the lowest. I am so pleased that this Bill is making progress today, sending a clear signal to potential offenders that there is no place for animal cruelty in this country.