RSPCA shares top pet reunions this World Happiness Day!
In celebration of new compulsory cat microchipping laws for England, and the UN International Day of Happiness (20 March), the RSPCA is sharing a selection of their most heartwarming cat and owner reunions.
Under the new legislation, cat owners in England will be legally required to microchip their cats before 20 weeks of age and ensure their contact details are kept up to date in a pet microchipping database. Owners found not to have microchipped their cat will have 21 days to get one implanted or may face a fine of up to £500. Current cat owners will have until 10 June 2024 to microchip their cats.
Samantha Watson, scientific officer at the RSPCA, said:
This is a huge step forward for feline welfare; microchipping is an absolutely essential component of being a responsible pet owner- so it's something we really wanted to celebrate on this year's International Day of Happiness.
This new law means that lost cats can be easily identified and reunited with their owners, rather than being handed to rehoming charities who are struggling with overflowing waiting lists.
To celebrate this positive step and to highlight the importance of microchipping we wanted to share some amazing cat and owner reunions. None of these heartwarming moments would have been possible if the cats weren't microchipped.
Here are the RSPCA's top five cat and owner reunions from the last five years:
Cat missing for seven years is reunited with family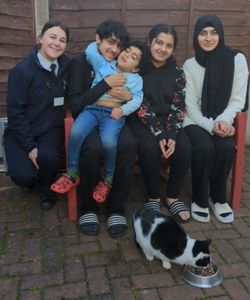 The RSPCA helped to reunite an overjoyed family with their cat who had been missing for seven years, thanks to his microchip. Black and white Raffael (known as 'Raffi') disappeared from his home in Old Trafford shortly before Christmas in 2016. Despite endless searching in the months and years that followed he was never found, and the Javed family concluded that he had most likely died.
The breakthrough came when RSPCA inspector Rachel Henderson was called about an injured stray cat in a garden in Longsight on 17 January 2023. When the officer scanned him she discovered he was microchipped and registered to the Javed family, who lived about five miles away.
Mr Javed said:
My children, Maryam, Ibraheem and Khadeeja were only seven, six and three at the time and they were devastated when Raffi went missing. I remember it was freezing cold at the time but we searched for him in all weathers, we literally looked for months and months.
I was travelling back to the UK from abroad at the time when my brother rang me to say Raffi had been found. We couldn't believe it, the children were so excited, it's all they could talk about.
A happy reunion in France after seven years missing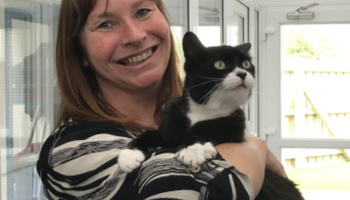 Bugsy the cat, from Weston-Super-Mare went missing in 2012 leaving his owners bereft. After desperately searching for him, Bugsy's owner Christine Holland assumed the worst and that Bugsy would never be found. The Hollands had since moved to France, along with their three other cats including Muppet who is Bugsy's brother.
Miraculously, in June 2019 the pair were reunited after the RSPCA tracked them down through the details registered on Bugsy's microchip. Bugsy was given care and attention from the team at RSPCA Brent Knoll Animal Centre until Christine and Robert were able to make the journey back to Britain to meet their missing moggy.
Christine Holland said:
We had a phone call from the RSPCA inspector asking if we had a cat called Bugsy. We were confused and answered that we used to but had lost him almost seven years ago.
She said that he was alive and well. We were shocked to say the least, thinking the worst had happened, and given up all hope of ever finding him. He is now settled with us and our other three cats. We would never have got him back if we hadn't had him microchipped as a kitten. A huge thank you to the RSPCA for getting him back for us.
A tearful reunion after nearly two years missing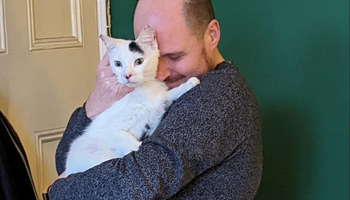 A couple were able to enjoy an emotional reunion with their cat, Lupin, when he was found by the RSPCA nearly two years after he went missing from Meanwood in Leeds, West Yorkshire.
Lupin was discovered slightly worse for wear after living life as an outdoor cat for a lengthy period. Fortunately as he had been microchipped he was able to be returned to his ecstatic owners who lived five miles away from where he was found. Harriet Tarbatt and her partner Michael gave up hope of seeing their beloved cat again after he went missing at just over a year old in February 2021. They conducted an extensive search but he was nowhere to be found.
The couple were overjoyed when their cat was returned to them just before Christmas on 10 December 2022. Lupin's arrival home was a double Christmas present for the happy pair who were also expecting a new arrival the same week.
Harriet Tarbatt said:
We couldn't believe it when we got the phone call from the RSPCA. It's so amazing we've got him back. We can't thank the RSPCA enough for getting him back to us.
Returning home after one year missing
In May 2021, the RSPCA reunited Katie Parkinson with her cat who had been missing for over a year. Black cat Rupert went missing from his home in Port Sunlight in 2020 when he left the family house as usual - but never returned. His owner Katie was frantic that her pet hadn't come home and over the next few months she did everything she could to find him but she had no luck.
Then exactly a year later RSPCA rescuer, inspector Anthony Joynes called Katie and broke the happy news Rupert had been found - two miles away from his home in Bebington. Rupert had been spotted as a stray and a member of the public was concerned he had an injured paw so she called the RSPCA.
Katie said:
When he called I was gobsmacked. I just burst into tears as I really thought he was never coming home. I had tried for months to find him. He knew exactly who I was and it is obvious he has missed me as he just won't let me out of his sight or leave me alone!
Family reunited with missing cat after four years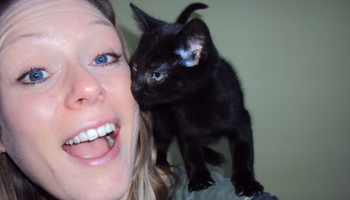 In August 2021, a cat who had been missing from her home for four years was reunited with her grateful family. RSPCA inspector Elizabeth Boyd was contacted on 3 August to rescue a cat which had been found near a nursing home in Whixley, Harrogate. The residents had been feeding the cat, called Nora, for a little while but that day they saw that she appeared to be struggling to breathe and needed urgent help. Elizabeth took her to a vet and managed to track down the owner with the details on the microchip. She contacted Nora's owner Rachel Johnson, who was shocked and thrilled to have her back. When Nora went missing the family had been devastated and after so long they had given up hope of ever seeing her again.
Rachel said:
It's just incredible to have Nora back. She's just so lovely! And I'm so appreciative of the RSPCA.
For more information on cat microchipping, visit the RSPCA online.
---