Oh rats! Pet rat braves cat flap in search of food
The RSPCA rescued a stray rat which was found trying to get inside a cat flap in Winsford in search of food.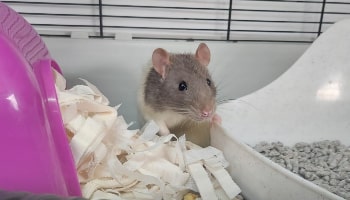 Luckily, the member of the public soon realised this was a domestic rat and brought the hungry and thirsty rodent inside and put up posters and posts on Facebook to try and find the owner before contacting the RSPCA for help.
RSPCA Inspector Caren Goodman-James collected the rat from Weaver Street on Wednesday 11 August and took him to the RSPCA Manchester and Salford branch.
Sadly, no owner has come forward for the one-year-old rat so the branch will look to rehome him soon.
Branch manager, Susie Hughes, said:
This poor fella must have been very hungry and in need of care as he was brave enough to try and climb through somebody's cat flap! He has some wounds to his tail, maybe from an attack by a predator and he is a little underweight so needs some TLC before he will be ready to be rehomed.
He is very friendly and has such a gentle nature. He's so adorable in fact that we have named the young rat Prince Charming, in the hope that he gets his fairytale ending very soon!
Rats are intelligent and social animals
Rats are intelligent, highly social animals and have very complex needs so a lot of research is needed before taking on rats as pets.
Check out more information on caring for rats.
To rehome Prince Charming, or any of the other animals in RSPCA care, please take a look at our find a pet.
---