RSPCA rehomes neglected dog with worst flea infestation seen
A neglected dog rescued by the RSPCA after he was found with most of his fur missing due to an untreated flea infestation has now found a new home with a member of staff who treated him.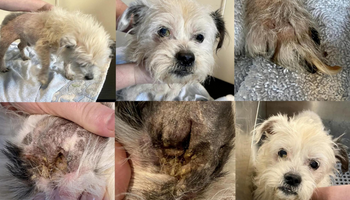 Bobby, aged 13, was rescued by inspector Anthony Joynes after he was called to check on the welfare of the terrier cross at an address in Birkenhead last week.
He could see the poor pet had lost most of his fur due to being riddled with fleas. He also had sore and infected ears and eyes.
His owner, who said they could no longer care for Bobby due to a change in circumstances, was considering having him put to sleep but Anthony rushed him to the RSPCA Wirral & Chester Branch for veterinary treatment and some much-needed TLC.
Kay Hawthorne, the branch manager, said:
He was filthy and in quite a state with more fleas than we have seen on a single animal. He had barely any fur from the waist down and you could just see thousands of black dots all over him - which were the fleas.
He had dirty infected ears and was also struggling from untreated dry eyes - both were sore and infected. One of his nails was very overgrown and gnarled, whilst another had grown into a complete circle - piercing his pad and growing into it significantly.
Staff got to work and gave him a good clean where lots of fleas got washed off. He was treated for his fleas once he was dry. He was then wormed, his sore eyes were bathed and then we lubricated them.
He then had his blocked ears cleaned out and we started him on a course of treatment to help clear the infection.
We clipped his gnarled nail, and removed the piercing one from the pad, then bathed the wound, enabling him to put his foot down and walk properly for the first time in a long time.
While all this was taking place he didn't stop wagging his tail the whole time.
That night he slept in a warm room on a clean, thick plump bed - the best-uninterrupted sleep he had had in a long time, without the discomfort of fleas making him itchy and restless. His ears and eyes weren't bothering him and he was able to walk without the piercing pain of a nail in his foot.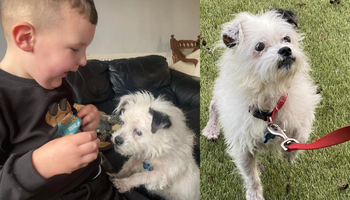 Kay bonded with Bobbi so much she rehomed him with her other dogs - Frankie a bulldog-cross aged one, Maisie, a West Highland White cross aged 12, Eva a German Shepherd aged 12, as well as Toots another Shih Tzu aged four.
She added:
He was just so sweet-natured and lovely and I knew we would struggle to find him a home at such an elderly age so I took him on. He now looks so happy and it just proves there is life in the old dog yet!
Inspector Joynes said he was delighted to see a transformed Bobbi and is over the moon he is now enjoying a new chapter in life with Kay.
He said:
Poor Bobbi really was in a bad way and it was so upsetting to think the owner was considering putting him to sleep, due to moving away and leaving him in the care of someone else who was struggling to cope. He should never have been left to get in such a state with veterinary assistance and charities around who would help in this situation.
He was riddled with fleas and had other infections and problems which were causing him real problems - but thanks to RSPCA staff he is transformed and is adorable. He has fallen on all four paws now he has been adopted by Kay too - I am thrilled.
For pet owners who are worried about the cost of living crisis, the RSPCA has opened a telephone helpline to support callers and a dedicated Cost of Living Hub with practical help and advice on the website.
To help the RSPCA continue rescuing, rehabilitating and rehoming animals in desperate need of care you can donate online or call us on 0300 123 8181.
---