Hundreds of animal lovers across the country celebrated RSPCA One Fun Day
A huge thank you has gone out to animal lovers across the country who came together to celebrate the RSPCA's One Fun Day.
More than 40 events were held simultaneously to support the RSPCA's network of branches and animal centres - with supporters turning out in their droves.
No two One Fun Day events were the same, and RSPCA branches and centres pulled out the stops this year with everything from charity shop parties to dog shows and family fun days.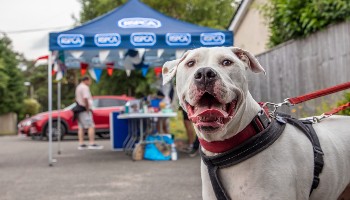 All of the RSPCA One Fun Day events were designed to celebrate being One RSPCA - and brought together the charity's amazing family of branches, centres, shops and others - and helping to raise valuable funds to directly help animals in your local area.
Jo Hockley, events manager said:
We just want to say a huge, huge thank you to everyone who supported us at our One Fun Day events. From the staff, volunteers, supporters and of course the animals it helped to make this a huge success and definitely a fun day for all involved.
Jo added:
There was so much going on at all the different venues - with everything from stalls, food, face-painting, crafts entertainment, as well as some dog shows and even a PonyCycle Championship.
Now more than ever the RSPCA needs your support - the cost of living crisis is having a huge impact on so many people and nationally we have already seen an increase in animal intake at RSPCA centres, amounting to 49% more rabbits, 14% more cats and 3% more dogs in the first five months of 2022.
So now more than ever your support is making a huge difference to animals in need that are being cared for at the RSPCA - and for that we just want to say thank you again for supporting the RSPCA One Fun Day and the animals in our care.
We hope we can build on the success of this year - and next year host even more One Fun Day events across the country.
Events were held across the country including Brighton, RSPCA Ashley Heath Animal Centre in Hampshire, Manchester, London, Norfolk, Colchester, Sunderland, RSPCA Millbrook in Surrey and many more.
To help the RSPCA continue rescuing, rehabilitating and rehoming animals in desperate need of care please donate online or call our donation line on 0300 123 8181.
---