Have you got the LOVE for these former unloved pets this St Dwynwen's Day?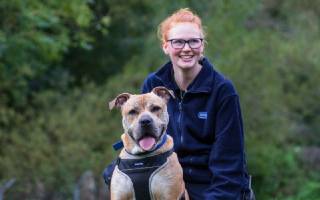 Is love in the air this St Dwynwen's Day for these animals in RSPCA care?
RSPCA Cymru is hoping the power of love will help find the perfect adopters for rescued animals such as rabbit Sophie, dogs Zeus and Charlie alongside ferrets Ronnie and Doris - this St Dwynwen's Day.
St Dwynwen's Day, a celebration of love, takes place every year on 25 January and is often referred to as the Welsh St Valentine's Day.
Rabbit Sophie - who had a tough start in life - has been looking for love for some time as she arrived at RSPCA Bryn Y Maen animal centre back in September 2020. She was rescued along with 70 chickens and cockerels who were all kept in poor conditions. Sophie also arrived at the Upper Colwyn Bay centre with another rabbit - Sadie - who has since found her forever home.
Centre manager Vicky Williams said:
Sophie is such a sweet natured rabbit and we just adore her. We really hope that she will be lucky in love this St Dwynwen's Day with the perfect owner.
She has grown in confidence each day and would benefit from going to an indoor home with an open area that will provide her with plenty of space to freely roam and include plenty of toys and hides to keep her entertained.
Sophie also enjoys the company of other rabbits so she is looking for a home where she can be introduced to an older gentle neutered male rabbit if possible.
We just know there is someone out there who will give her the love she truly deserves.
If you could offer Sophie a loving home, please get in touch with the animal centre. More information and an online application form can be found on find a pet.
At RSPCA Newport Animal Centre, staff have two beautiful dogs they hope will pull on the heartstrings this St Dwynwen's Day.
Crossbreeds Charlie and Zeus are looking for love
Zeus - who arrived in RSPCA care back in May - has the biggest heart and warmest personality despite going through a tough time with a terrible skin condition.
Deputy centre manager Kathryn Logan said:
Zeus came in via our inspectorate in a sorry state. He had no fur, sore skin and was so scared.
Fortunately with medication and lots of love Zeus is bouncing back to health and has transformed into the loving dog we know now.
He is such a cheeky chap and would love a home where he can have plenty of fuss and attention and really become the heart of the family. Please please get in touch if like us you have fallen in love with Zeus!
You can find more information on Zeus on Find A Pet along with an online application form.
Sadly the centre's longest-staying resident, Charlie, is still looking for a home. The five-year-old pooch joined the centre early in 2021 and was very withdrawn after not having any prior human contact.
He had been rescued by the RSPCA after he was discovered living in a run down outbuilding in Ceredigion - along with 44 other dogs. But thankfully following months of care and rehabilitation by dedicated staff Charlie has transformed.
Behaviour and welfare adviser, Hayley Moorey, said:
Charlie had been living in inappropriate conditions in a dilapidated outhouse and had never experienced a normal life before he came to us. His cheeky little personality has now really come out and he's shown everyone that time and patience really does pay off.
He's a different dog to the nervous and withdrawn animal that arrived here nearly a year ago, and he really deserves to find a lovely home after all he's been through. He loves to run off the lead with all his doggy friends here at the centre and is continuing to meet and develop relationships with different members of staff. He loves getting cuddles from his main carers and he gives plenty of kisses too! It's been quite a journey for him, but we are all over the moon at his progress and the opportunity he now has to lead the life that he always should have had.
If Charlie is the one for you this St Dwynwen's Day please visit Charlie's pet profile to fill out an online application form.
Ferrets Ronnie and Doris
While at RSPCA Llys Nini Branch - who run the Swansea animal centre in Penllergaer - staff have described two ferrets as "rays of sunshine".
Ronnie and Doris met each other at the centre after they were found separately as strays, and have now become inseparable.
Ronnie is a friendly two-year-old male ferret who staff say is a joy to be around. He loves a good snooze, playing with his toys and giving kisses! Beautiful Doris, who is nearly one-and-a-half, loves to play with her toys and run through tunnels. As you can see from this video, she has a lot of fun with her new companion Ronnie.
Could you fall head over heels for Ronnie and Doris? You can find out more about them on the Llys Nini website and read all the RSPCA advice and tips.
For all the animals looking for homes in RSPCA care please visit find a pet.