RSPCA launch appeal after guinea pigs found abandoned in a FREEZER BAG
The RSPCA is appealing for information after two guinea pigs were found dumped in a freezer bag in Deptford.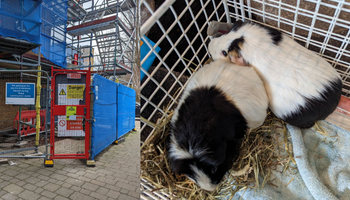 Two female guinea pigs were discovered in a Coca-Cola freezer bag outside a construction site on January 7 by a member of the public.
RSPCA inspector Harriet Daliday said:
Thankfully a passer-by thought it was odd to see a freezer bag hanging on the construction site door frame and decided to investigate. After finding the terrified guinea pigs huddled inside, she kindly brought them to her home and cared for them whilst waiting for us to arrive.
We are very relieved the guinea pigs were spotted. If they'd been left there for more than a day it's unlikely they would have survived.
Times are tough right now, but we urge anyone who is struggling with caring for an animal to reach out for help. However difficult things are, abandoning pets like this is irresponsible and cruel.
This is not the first call out we've had to this area, we also rescued an abandoned kitten a few weeks ago not far from this site - and we're worried the cost of living crisis could be the cause of these heartless actions.
If anyone recognises these gorgeous guinea pigs or has any useful information, they can ring the RSPCA confidentially at 0300 123 8018.
The adorable pair are now safe and happily snuggled up at the RSPCA's Leybourne animal centre.
The RSPCA has sadly seen a 24% increase in reports of animal abandonment this winter, whilst the charity's Animal Kindness Index found that 28% of owners are worried about not being able to care for their pets.
Pet owners can find a range of practical help and advice in the RSPCA's dedicated cost-of-living hub. The charity has also launched a dedicated phone line for those looking for support.
Harriet added:
Serious money worries mean even the most loving owners are concerned about caring for their pets. Sadly we predict that even more animals will be abandoned or neglected as the cost of living crisis continues to bite.
To those able to do so, please help us to protect animals from the cost of living crisis this winter. Please visit our webpage to join the Winter Rescue and help our rescuers be there for animals in need.
Read our expert pet care information to find out more about the needs of guinea pigs.
---