RSPCA give people 'plenty of fish' to think about this Valentine's Day
For those who are looking for love - it is always said there is plenty of fish in the sea.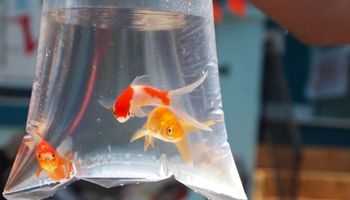 But this St Valentine's Day, the RSPCA is hoping to reel in new support for its popular Pets as Prizes campaign.
The animal welfare charity hopes there is some extra special love this February 14 for its Pets as Prizes campaign - #NoFunAtTheFair has so far been backed by more than 8,000 supporters and has inspired many local authorities to show affection for the much-loved goldfish.
The campaign urges local authorities to do their bit in their own communities. There are now 31 local authorities in England and 12 in Wales who have banned this practice from taking place on their land.
However, the individual council bans only relate to their own land, meaning pets as prizes could still be given out on private land - so there's still plenty of fish at risk, this Valentine's Day.
The RSPCA is ultimately calling on both the UK Government and Welsh Government that pets being given away as prizes should be banned outright and that national legislation in both countries is ultimately a requirement.
Shelley Phillips, RSPCA's senior campaign manager, said:
We are really seeing the number of local authorities taking action to grow and grow, which does prove there is real strength of feeling about this issue.
And we hope that this St Valentine's Day - people can feel some love for our campaign, and make sure there's no longer plenty of fish at our funfairs and shows. There is plenty of fish who are affected by this tradition each year and as we head into Spring, we're worried about even more reports.
We ultimately hope both the UK Government and Welsh Government take note of this growing campaign and ban pets as prizes outright.
It is often goldfish that are found to be given out as prizes.
Shelley added:
Sadly - despite many believing it is a thing of the past - we too often hear of instances of pets being given out as prizes.
But animal ownership is a big responsibility - and while goldfish can make great companions, they shouldn't be acquired via a spur-of-the-moment game.
Goldfish are easily stressed and very often fish that are won as prizes suffer miserably from shock, oxygen starvation or die from changes in water temperature, and many may die before their new owners can get them home.
They are misunderstood as pets - as they can make great companions; but can actually be challenging to look after and new owners must do their research before they acquire the fish, not afterwards.
When bringing a fish home for the first time, it's important to set the tank up at least two weeks in advance to make sure it's all running smoothly, and this just isn't possible for someone who's won a fish without being prepared for it.
Encourage your local councillors to bring forward a ban in your area and support our campaign.