RSPCA celebrates 'huge news' as farmers in Wales could be paid for higher welfare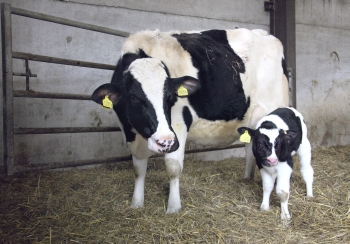 As the Royal Welsh Show continues in Mid Wales, the RSPCA has hailed the "huge news" that its campaign for farmers to be incentivised for delivering the highest welfare standards could be on the verge of success.
In the lead-up to the Show, the Welsh Government outlined plans linked to the eagerly-anticipated Agriculture (Wales) Bill.
The Bill is set to pave the way for a new Sustainable Farming Scheme for Wales, which will set the terms of how farmers are subsidised in Wales following the UK's withdrawal from the European Union.
RSPCA has long called for farmers delivering the highest welfare standards on their farms to be incentivised - encouraging those keeping Wales' millions of farm animals to deliver the very best welfare outcomes.
Positively, the Welsh Government has now said it wants to build on Wales' farm animal welfare record "by helping farmers make sure animals have a good quality of life".
This is set to include a system to "recognise and reward high animal welfare standards which take into account the animal's physical welfare as well as their wellbeing"; with incentives to hinge on animals having "opportunities for positive experiences which allow them to have a 'good life' rather than simply removing factors that have a negative impact on them".
In a new RSPCA blog, Kate Parkes, from the charity's farm animals department, said:
At RSPCA Cymru, over the last couple of years, we've championed how a future Agriculture (Wales) Bill could provide the biggest opportunity for farm animal welfare in the history of devolution.
There are tens of millions of farm animals in Wales - so a policy change offers tens of millions of opportunities to ensure an animal has a better quality of life.
This (proposals for the Sustainable Farming Scheme) is the strongest indication that Wales is on the verge of directly paying farmers for taking proactive steps to deliver a better quality of life for their livestock. That's huge news.
The devil will, of course, be in the detail - but we're so thrilled that the Welsh Government has listened to our calls and are ready to take one of the biggest moves in the history of farm animal welfare.
Labels like RSPCA Assured is already focused on welfare, with standards based on the latest research as well as practical on-farm experience. We now hope the Welsh Government will use our RSPCA welfare standards when assessing the success of farms in achieving and promoting higher welfare.
RSPCA Cymru believes the urgency to incentivise farmers for delivering better welfare is enhanced by the ongoing negotiations around future trade deals between the UK and overseas partners.
The charity is concerned that if deals encourage the import of lower welfare produce into Wales, it could undermine domestic standards and pile pressure on farmers to cut costs.
Kate adds:
The timing of this could not be more important.
As the UK continues to pen new post-Brexit Trade Deals, there's a real risk that unrestricted imports of cheaper, lower-welfare produce from abroad could undermine domestic production, and leave farmers forced to cut costs or sacrifice welfare to compete with cheaper imports.
This can't be allowed to happen, and providing farmers with incentives to enhance standards offers a great safety net.
Higher welfare rearing is not only the right thing to do - but it also offers huge promotional value for Welsh produce, and through robust labelling can give consumers the information they want about the origin of their food.
As searing hot temperatures ensue in Wales as the Show continues, the RSPCA is also highlighting the importance of keeping livestock safe in the heat - and taking proactive steps to keep farm animals as safe as possible.
Kate commented:
We know many across Wales and beyond will be delighted to see the Royal Welsh Show return, after cancellations in recent years due to Covid restrictions. But with the hot temperatures set to continue, it's also really important that measures are taken throughout the Show to help keep livestock and other animals safe and cool.
From ensuring good ventilation in marquees to ensuring plenty of shade and clean water are available at all times, there are proactive steps that can be taken to help protect farm animals in the searing heat - which must be an absolute priority as the Show continues.
The RSPCA offers plenty of advice for keeping farm animals safe and comfortable during spells of hot weather - from cooling mechanisms for pigs to reducing transport stresses for sheep, to knowing when to milk dairy cattle, and plenty of other top tips.
We also urge people not to transport animals in the hottest weather unless it's absolutely necessary, and to instead move them during cooler parts of the days to help make these journeys more bearable.
We're also reminding dog owners to leave their pets at home while attending the Royal Welsh Show this week. Visitors are not permitted to bring their dogs to the Show - aside from assistance dogs and competing dogs - and we fear this could lead to dogs being left in cars, which is extremely dangerous and could prove fatal.
Find out more information about the RSPCA campaigns work.
---