RSPCA celebrates improvements for farm animal welfare but calls for more
This World Day for Farmed Animals the RSPCA is celebrating the successes of the last year in improving farm animal welfare - but has called for further progress to be made on the vital Kept Animals Bill.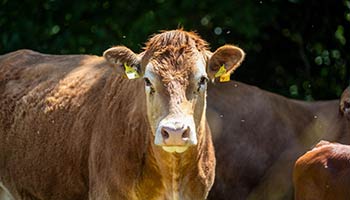 The last year has seen a series of announcements and consultations which will have a positive impact on the welfare of farm animals across the UK. This comes at a pivotal time when the public is becoming ever more aware of the origins of their food and the welfare of the animals involved.
Conscious consumers are increasingly applying an ethical lens to what they put in their shopping baskets and their mouths. This, the RSPCA believes, provides an opportunity to improve farm animal welfare and make a huge difference to over one billion animals which are raised for food in the UK each year.
Dr Marc Cooper, RSPCA's head of farm animals said:
This World Day for Farmed Animals, the RSPCA is celebrating some of the positive developments for farm animal welfare that have taken place over the last year.
From new subsidy payments for farmers delivering higher welfare standards to progress on the method of production labelling, a reduction in animals slaughtered without pre-stunning, and even more businesses taking proactive steps to show their commitment to farm animal welfare in the produce they sell, it's been a year which has seen some substantive progress for millions of farm animals.
Of course, there's still a lot of progress that needs to be made and improvements we want to see, but we've seen some noteworthy developments that will impact the lives of billions of animals.
Announcement of farm subsidy payments in England
This year the UK Government announced it would offer payments to farmers who farmed to higher welfare standards in England. This means, for example, English farmers will be financially rewarded for moving away from hens in cages and pigs in farrowing crates and stopping the practice of docking pigs' tails among other welfare concerns.
Agriculture Bill in Wales launched too and could lead to subsidies for higher welfare
In Wales, the Agriculture (Wales) Bill has also been published - and paves the way for a new scheme that looks set to incentivise Wales' farmers for delivering the highest standards. A new payments system pledges to "recognise and reward high animal welfare standards which take into account the animal's physical welfare as well as their wellbeing"; with incentives to hinge on animals having "opportunities for positive experiences which allow them to have a 'good life' rather than simply removing factors that have a negative impact on them". The Agriculture Bill is also set to ban the use of snares and glue traps in Wales.
Further consultation announced to bring in 'method of production' labelling
The UK Government launched a consultation into 'method of production' labelling last year and this year released the results, as well as announcing a further consultation in 2023. This means that plans to bring in mandatory labelling for all animal products are progressing. Currently, only eggs are labelled but the RSPCA wants to see this expanded and hopes that this will encourage a shift towards rearing more animals to higher welfare standards, improving the lives of millions of animals. Public awareness of how the animals have lived and their welfare at slaughter could create demand for higher welfare products.
Food Standards Agency (FSA) figures show a reduction in animals slaughtered without pre-stunning
This year the FSA released its figures on the number of animals slaughtered without pre-stunning. The FSA figures showed a significant reduction in the number of animals slaughtered without pre-stunning from an estimated 94 million in 2018 to 25.4 million in 2022. Stunning ensures animals are unconscious at the time of slaughter, so they cannot feel pain or suffer. For slaughter to be humane, it's essential that animals are effectively stunned so it was positive to see more animals being pre-stunned.
More organisations sign up to improve chicken welfare
There have been significant sign-ups to the Better Chicken Commitment this year with Starbucks among the many new companies pledging to only use slower-growing, higher welfare breeds of chickens which therefore suffer fewer welfare issues.
Legal challenge over the use of faster-growing breeds of meat chickens
An RSPCA report "Eat Sit, Suffer, Repeat", which examined the health and welfare outcomes of a number of breeds of meat chicken, helped to form the basis of a recent legal challenge against so-called 'frankenchickens' made by The Humane League UK. The Court of Appeal granted permission for a judicial review, which will challenge the legality of using faster-growing breeds of broiler chicken - chickens reared for meat - on the basis that this breaches the law relating to the welfare of farm animals due to the serious health and welfare consequences of this fast growth.
RSPCA aims to see at least 50% of all farmed animals reared to higher welfare standards by 2030
As part of the charity's strategy, the RSPCA aims to see more than half of all farmed animals in the UK reared to higher welfare standards. This ambitious target means that the charity is working harder than ever to promote higher welfare farming, including encouraging farmers to sign up to the RSPCA Assured scheme.
This autumn, M&S became the first national retailer to sell only slower-reared, RSPCA Assured labelled fresh chicken in its stores. In line with the Better Chicken Commitment, the retailer has moved to the Hubbard breed which also benefits from the RSPCA's higher welfare standards. These standards include 25% more space to move around than chickens on the standard Red Tractor scheme as well as an enriched environment with pecking objects and perches to encourage their natural behaviours. It also makes higher welfare chicken more affordable as a variety of cuts are available from breast meat to whole chicken - all of which are 100% higher welfare. Supermarkets including Co-op, Tesco, Sainsbury's, M&S and Waitrose & Partners have also signed up to the WWF Retailers Commitment that commits to all their meat being at a 'better level' by 2030. The charity also updates its higher welfare standards and is committed to continually improving farm animal welfare through its standards.
Sentience Act becomes law and decapod crustaceans and cephalopods added to its scope
The landmark Animal Welfare (Sentience) Act became law and decapod crustaceans and cephalopods, which had originally been left out of the scope of the law, were added. This was thanks to a report by LSE which recommended banning harmful and barbaric practices like declawing and cutting the tendons on crabs, preventing the sale of live crabs online sent through the post to untrained handlers, and banning distressing slaughter methods such as boiling alive and dismemberment without effective stunning first. The report also recommended more research into effective stunning methods for different species and urged the UK Government to look into banning imports of farmed octopus because the practice of farming is very stressful for such solitary creatures.
Despite this progress, other legislation which promises to improve the welfare of farm animals has completely stalled. For example, the Kept Animals Bill which will see an end to live exports, has seen little or no progress. The RSPCA believes there is absolutely no reasonable justification to subject an animal to an unnecessarily stressful journey abroad simply for them to be killed or fattened for slaughter.
The charity has campaigned extensively for over 50 years now for an end to live exports and tighter controls over transporting live animals, and welcomed the announcement that this would end as part of the Kept Animals Bill. The Bill was most recently due for Parliamentary scrutiny on September 19 - but was postponed due to the Queen's funeral and there is uncertainty on its future progress. Prior to this, the Bill had spent a long period of time stuck awaiting report stage and third reading in the House of Commons - Committee stage having previously taken place in November 2021.
Now worrying reports suggest plans to ban the import of foie gras has already been shelved; and the RSPCA fears that without quick, meaningful action on the Kept Animals Bill, the UK Government's policy agenda for animal welfare is on the verge of complete collapse.
David Bowles, RSPCA's head of public affairs said:
We've seen some great strides made for farm animal welfare over the last year but to build on these successes, we are keen to see the Kept Animals Bill proceed as promised. This will have a huge impact on animal welfare and in particular will bring an end to unnecessary and gruelling journeys for farm animals which are exported abroad.
The charity is urging animal lovers to #ActNowForAnimals and urge the UK Government not to go back on its promises:
To help the RSPCA continue rescuing, rehabilitating and rehoming animals in desperate need of care please donate online or call our donation line on 0300 123 8181.
---