RSPCA vet apprentice learns vital skills to help animals in need
NatWest Group has pledged a £500,000 levy transfer to help the RSPCA expand its apprenticeship programme to train up and inspire animal lovers just like Michelle.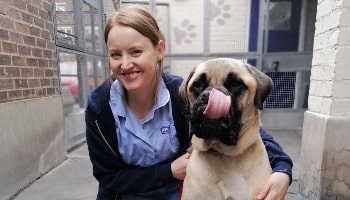 Michelle Capper, a hospital assistant at RSPCA Harmsworth Animal Hospital in London, has been studying a Veterinary Care Support Apprenticeship level 2 with the College of Animal Welfare since November 2019, and has recently just completed her final exams.
As a hospital assistant, her role sees her supporting the nurses and vets with day-to-day care of the animals, assisting in surgery and supporting clients with a wide range of queries. Her career at the RSPCA started in October 2018 and Michelle decided to take on the apprenticeship a year later to upskill and progress her career in the veterinary profession.
She said:
It's been very difficult but it's worth it in the end. Now when I look back, I realise just how much I have learnt over the course of my apprenticeship. I've obviously learnt a lot about animal welfare and care but also having not been in education for a while, it's been interesting to learn how to write essays again and how to manage my time.
Michelle, who lives in Haringey, London, is an animal lover and grew up with pet rabbits which is one of the reasons she wanted to work for the RSPCA.
She added:
I like that we make such a difference to an animal's life. It's the most fulfilling part of the job. We recently had a stray cat called Cleopatra come into the hospital with a fractured pelvis and she was overdue in her pregnancy so we needed to perform an emergency c-section as she was unable to give birth naturally. I was able to assist the vet in surgery, monitoring her vital signs and helping with her care and recovery of Cleopatra and her tiny kitten Selene. It's so rewarding to know that you've helped change an animal's life and in this instance, helped to bring another life into the world!
Michelle's role saw her setting up the theatre and preparing all the necessary equipment, she then helped the vet induce the anaesthetic by keeping the cat calm and gently restraining her. In theatre, she monitored the cat's vital signs such as heart rate, respiration and temperature and communicated this to the vet. After the procedure was completed and Cleopatra had one healthy kitten named Selene, she monitored her recovery to make sure she was kept warm and her vital signs were good.
Michelle added:
Cleopatra was a good mother and took great care of her little kitten. It was fantastic to see little Selene grow up and for them both to leave the hospital to find their forever homes.
The Coronavirus crisis means the last year has been more difficult than expected which has had an impact on Michelle's apprenticeship but despite this, she still managed to complete the course and hopes to take part in another apprenticeship in the future.
She said:
It was quite difficult especially during the first lockdown as a lot of the protocols had to change at the hospital which meant a greater demand on us. This meant it was difficult to balance this extra demand with my apprenticeship. My supervisor was based at another hospital too which meant I had to learn to manage my time better and make sure I was asking for help when I needed it.
My future plan is to stay in the same role at the RSPCA and continue with a level 3 apprenticeship in vet nursing.
NatWest Group helped to extend the RSPCA's apprenticeship programme with its £500,000 levy transfer. This means the charity has been able to provide even more opportunities for people like Michelle to progress their career and play their part in helping the 100,000 animals which the RSPCA rescues every year.
Apprenticeship programmes help people to access new careers
Craig Neill, Head of Talent Acquisition at NatWest Group, said:
At NatWest Group, we know how rewarding a thriving apprenticeship programme can be for both an organisation and those who participate. Apprenticeship programmes help people to access new careers they may have never considered whilst building skills for the future, helping both people and industry.
I am delighted that this funding is being redirected to the RSPCA and will allow RSPCA employees like Michelle to develop the new skills and capabilities they need to continue the brilliant work the RSPCA do across the charity sector.
Find out more information on our apprenticeships.