RSPCA announces Chelsea Flower Show sanctuary garden for people and wildlife
The RSPCA today revealed it will exhibit an inspiring wildlife garden at the prestigious RHS Chelsea Flower show next summer, thanks to generous funding from Project Giving Back.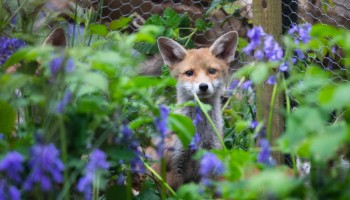 'The RSPCA Garden' is a celebration of the RSPCA's 200th anniversary as well as the benefits of being immersed in nature - a sanctuary for wildlife and people alike.
Elements of the stunning garden are inspired by the frontline work of RSPCA teams and volunteers rescuing, rehabilitating and releasing thousands of animals every year, and the charity hopes the garden will inspire people to join them to do more.
Chris Sherwood, Chief Executive of the RSPCA, and keen gardener said:
We're so excited to have a garden at Chelsea Flower Show next year to celebrate us approaching our anniversary of 200 years of helping animals - including wildlife.
Helping wildlife is an enormous part of the RSPCA's work, with almost half of reports received relating to wild animals. It's an amazing tribute to our staff and volunteers to see their hard work referenced in this garden.
We want to inspire people to take action to help wildlife at this critical time and Martyn Wilson's stunning design provides that in spades.
We are incredibly grateful to Project Giving Back for the grant for this garden, which will have a living legacy at one of our centres helping us to encourage more people to improve the lives of animals for generations to come.
RHS Chelsea Flower Show 'sanctuary gardens' are designed to harness the healing power and serenity of nature. The RSPCA Garden is a fusion of natural, sustainable and recycled materials and includes a raised wildlife-watching 'hide' - designed to be a refuge in nature for an RSPCA volunteer after a busy shift.
This garden, designed by wildlife enthusiast Martyn Wilson of Wilson Associates Garden Design, is a contemporary interpretation of a wildlife sanctuary, inspired by native woodlands and a visit to RSPCA West Hatch Wildlife Centre in Taunton, Somerset where he saw first-hand the rehabilitation of wild animals.
Martyn, who lives with his wife and beloved cocker spaniel Poppy in Worcester, said:
Animals are at the heart of this garden. I was inspired by my passion for wildlife and walks with my dog in a local semi-ancient woodland, as well as a visit to RSPCA West Hatch wildlife centre, where I saw first-hand the incredible rehabilitation work the charity's team carries out, from injured seals to poor hedgehogs, and everything in between.
It's a celebration of 200 years of the RSPCA protecting animals and elements of the garden will reflect the cycle of painstaking care given to thousands of animals every year. Some of the garden's features will include repurposed litter, and there will be nesting boxes for hedgehogs, but also for sparrows, which are a threatened species.
We want to inspire everyone to take steps at home to create a sanctuary for wildlife, and I hope this garden will show that doing that doesn't mean having an 'untidy or scruffy' garden. Wildlife gardens can be modern, contemporary and beautiful, and at the same time, do wonders for the natural world and its animals.
After the show, the garden will be relocated to the RSPCA's education hub at Stapeley Grange Wildlife Centre in Nantwich, Cheshire, in time for the charity's 200th-anniversary celebrations in 2024. It will continue to provide sanctuary for wildlife, but also for visitors - including young people, families and vulnerable adults, who already visit the centre for support with emotional wellbeing and resilience. The space will deliver impactful experiences and bring essential animal welfare education to communities that have fewer opportunities to connect with their environment.
Last year the RSPCA helped thousands of wild animals equating to two every hour. To help the RSPCA continue rescuing, rehabilitating and rehoming animals in desperate need of care please donate online or call our donation line on 0300 123 8181.
---