RSPCA rescues a red kite after it was shot and fell onto Greenwich tourists
The RSPCA has issued an appeal for information after a red kite crash-landed into tourists in Greenwich with several shotgun pellets subsequently found embedded in his body.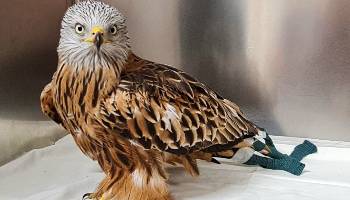 The RSPCA was contacted for help after the kite fell out of the sky and landed on some tourists who had been taking photographs at the world-famous Royal Observatory in Greenwich on Saturday 11 February.
RSPCA officer Rodney Kenny said:
This poor bird was lying on his back on the ground and gasping for breath after crash-landing into the shocked tourists.
People had seen him flying low over the park trying to avoid a group of crows that had been mobbing him just before he fell out of the sky. A kind Met Police officer followed our advice by covering the bird with his coat to keep the kite calm and warm and stayed with him until I arrived.
I took the bird directly to South Essex Wildlife Hospital where he received expert treatment from their wildlife vets. When he was X-rayed, they were shocked to see shotgun pellets embedded in his body. Happily, the pellets miraculously didn't affect any vital organs and the bird is now recovering well. Once rehabilitated, he can hopefully be released back into the wild where he belongs.
We're very concerned by this cruel and totally unacceptable incident. Someone out there is illegally targeting wildlife. It's absolutely disgusting that someone would purposefully target and shoot this bird.
We're working closely with the Met Police Wildlife Crime Unit and RSPB to investigate this incident. If anyone witnessed the shooting - which may have taken place some distance from Greenwich - or has any other information about the deliberate attack on this kite, we would urge them to contact the RSPCA appeals line on 0300 123 8018 or the Metropolitan Police Wildlife Unit by dialling 101 or reporting on-line.
We'd like to thank the public, who play such an important role in protecting wildlife by reporting incidents like this. Their support is vital in preventing harm and helping us with our enquiries. Our huge thanks also go to the South Essex Wildlife Hospital for expertly caring for this red kite.
Red kites are unmistakable with their reddish-brown body, angled wings and deeply forked tail. They were saved from national extinction by one of the world's longest-running protection programmes. They are scavengers, eating mainly carrion and earthworms, rather than targeting live prey. They have plenty of natural food sources and need no supplementary feeding so the advice is to enjoy them from a distance and never feed them.
Red kites are legally protected under The Wildlife and Countryside Act. If someone is found to have shot this bird they may face an unlimited fine and/or up to six months in jail.
For advice on what to do if you find an injured wild animal, please visit the RSPCA's website.
To help the RSPCA continue rescuing, rehabilitating and rehoming animals in desperate need of care please donate online or call our donation line on 0300 123 8181.