Rescue dog helps her autistic owner with anxiety through lockdown
A dog who nobody wanted, found her forever home and now helps her new owner with her autism and anxiety.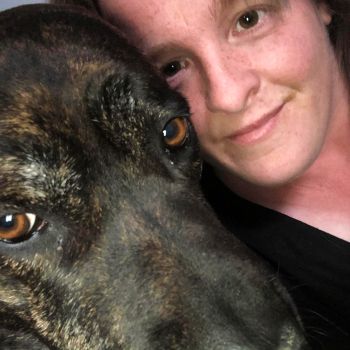 Cheryl Taylor, from Sutton in Ashfield, Nottinghamshire, adopted five-year-old Beauty from the RSPCA's Chesterfield & North Derbyshire branch in 2017.
Once reserved Cheryl would visit Beauty, taking toys and treats and spending time getting to know her until she was ready to be taken home:
I will never forget the day this amazing dog came into my life. Even though I fully understood the massive responsibilities of taking care of a dog, this did not faze me in the least.
Beauty is more than just a dog to me; she is my best friend.
Cheryl, who is on the autism spectrum, struggles with high levels of anxiety:
Even though Beauty has received no formal assistance dog training, this is the role she plays in my life and she plays it superbly. She is a very sensitive dog who is able to pick up on how I am feeling with no encouragement.
If I'm particularly upset she will immediately sit, and raise her paw. If I sit down with her, she will give me a hug, often by placing one or two paws on my shoulder and resting her head on me.
Having Beauty around also gives me a good sense of personal security. She will bark and alert me if there is anyone outside or around.
Lockdown has been particularly challenging for Cheryl - but Beauty has helped her continue with some sort of routine and normality.
This has been a difficult time but lockdown has been that little bit easier for me thanks to Beauty. She's given me a valid reason to go out and spend time in nature; she loves the woods, the sounds of the birds and spotting squirrels. Her happiness and excitement never fails to rub off on me!
Beauty is a constant that never changes.
Additionally, Beauty has offered Cheryl companionship, support and affection.
She provides me with judgement-free companionship as I lack the ability to form many kinds of social relationships with other people.
She loves people; always wagging her tail and eager to greet people. Everyone we meet loves her!
Beauty has a home with me for the rest of her life and is now a member of my family. Beauty changed my life forever, and I will be forever grateful to the RSPCA for bringing her into my life.
To help the RSPCA continue rescuing, rehabilitating and rehoming animals in desperate need of care please donate online or call our donation line on 0300 123 8181.
Be #DogKind
Developed by dog behaviour experts and based on new research, our #DogKind campaign helps you better understand your dog's behaviour. Discover how to make your dog the happiest pooch on the block.