Could you give a furry friend a new home this Black Friday?
Could you change the life of a furry or feathered friend this Black Friday and offer a beautiful black pet a loving new home?
We think black is beautiful; but, sadly, it seems that some don't agree. Some of our stunning black pets can take longer to rehome than other coloured pets.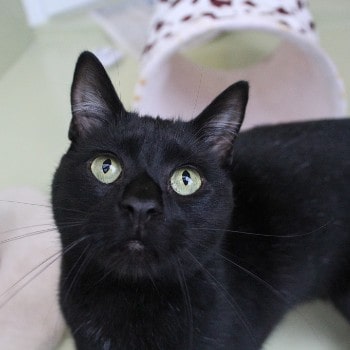 We're not quite sure why this is; it could be because some people believe that black cats are bad luck or dark-coloured dogs are more difficult to photograph. But we're here to prove those myths wrong...
Levi
At only 14 months old, Levi hasn't had the best start to life and recently had to have 24 teeth removed due to feline calicivirus. Despite having been through the wars, he's a sweet and affectionate lad who is looking forward to a fresh start.
Levi would like a home where he can go outside and explore and where he'll be the only pet. Staff looking after him at RSPCA Cornwall said he can be frightened of dogs and isn't suitable to live with other cats.
He could live with older children and would like someone around so he can enjoy some company.
Rory
Deerhound cross Rory is only nine-months-old but already weighs in at over 30kg! This big lad is a gentle giant who is still growing so is looking for a home with owners who have owned big dogs before! He was sadly signed over into RSPCA care when he got too big for his previous home.
He's an inquisitive boy who is always on the go and would like patient owners who can train him and help him as he grows. He loves fuss and attention from people and also gets on well with other dogs but can chase cats and other small furries.
Staff at RSPCA Hillingdon, Slough, Windsor, Kingston and District branch feel he'd benefit from further training and needs to learn that it's okay being left home alone.
Hades
Hades is a handsome Labrador cross who has been waiting far too long to meet his perfect match. He'd like an adult-only home with experienced owners who can help him settle in and show him the ropes.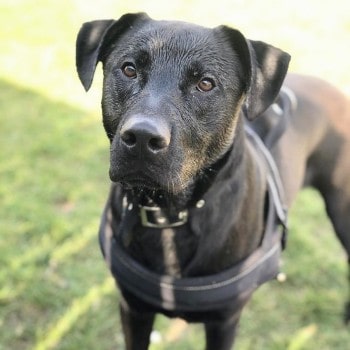 While he's a big lad, he can be nervous of strangers but is very loving and loyal once he knows you. He's such a sweet, affectionate dog, once you get past his shyness.
He was very under-socialised when he first arrived at RSPCA South Cotswolds but the staff have been working closely with him and he's been very brave and is learning every day.
Hades would like a quiet home as the only pet with someone who will be around for most of the day. He needs someone patient and confident who can help him grow into a well-rounded and happy pooch.
Leo
Fifteen-year-old Leo is a lovely senior puss who deserves a special home to live out his retirement.
This beautiful boy has a lot of love to give and, in return, offers plenty of purring. Leo enjoys spending his days in the warmth on a cosy bed or lap (if there's one available!)
He loves company so would like someone who spends lots of time at home. Bryn-y-Maen Animal Centre, in Wales, have been taking care of him and said he could live with children, but would prefer to be the only pet in the house so he can enjoy all of the attention!
Stella
Stella is a large cross breed bunny who came into our care after being removed from her home due to welfare concerns. She's an adorable girl with lots of personality and would love to find a loving owner and a neutered male bun for company.
The one-year-old rabbit is a confident, outgoing bun who has a big personality. She's mischievous, cheeky and always on the go.
She'd like a large enclosure with lots of enrichment and plenty of toys and activities to keep her busy. Staff at RSPCA Walsall are desperate to see her go off to the forever home she deserves after spending so long in their care.
Charcoal
Six-month-old Charcoal is a sweet lop who can often be found snoozing and hopping around. He was rescued by inspectors so we don't know much about his background.
Blackberry Farm Animal Centre, in Buckinghamshire, have been looking after him and describe him as skittish when being picked up. He'll need an owner who can slowly help build his confidence around being handled.
Charcoal is looking for a home where he'll be kept inside or outside in a large enclosure with suitable space and enrichment, and he would like to live with a neutered female bun who he can become best friends with. He could live with children, as long as handling is supervised.
Waffle
Two-year-old smooth coat collie Waffle is a sensitive boy who hasn't had the best start in life and lacks socialisation skills.
He can be frightened around new people and others, and initially found the outside world very overwhelming. He's come a long way in the care of the team at Stubbington Ark, in Hampshire, but has bitten in the past so needs owners who will be confident in continuing his training, with ongoing support from our behaviour team.
He was adopted but was sadly returned as his owners struggled to manage his shyness around strangers so it's really important his new owners understand this. He¿d like a secure garden to enjoy and a quiet home with limited visitors while he settles in. He loves to learn new things and is incredibly intelligent and really thrives when he is working.
Magic
Ten-year-old Magic is a sweet Welsh pony who stands at 12hh. He's a friendly lad who adores being groomed and enjoys having fuss and attention. He is easy to catch and lead in and out but can be fidgety when having his feet picked up. He's great for the vet but unsettled when the farrier visits.
The gelding is a striking boy who has only one eye, after he had to have one removed following trauma.
He'd like a new home where he can live with geldings as he currently lives out with seven others and gets on well with them. He'll also need his grazing restricted.
Charlie
Charlie was one of three cockerels found abandoned in a garden and was rescued by our officers. He's now at Southridge Animal Centre, in Hertfordshire, where he's been waiting a long time to find his happy ever after; now he's hoping this might be his chance!
Four-year-old Charlie would love a home with a flock of hens that he can look after. He'd like a large enclosure and a secure, weather-proof coop where he and his girls will be safe from predators but will provide plenty of space for roaming and pecking for food.
Join the Rescue
Join the Christmas Rescue and help our rescuers be there for the animals in need this winter by making a donation.
---