We're raising awareness of unwanted and abandoned guinea pigs
This Guinea Pig Awareness Week (March 22-28) we're highlighting common misconceptions which can lead to pets being abandoned or neglected.
In 2020 we received calls about 600 incidents involving guinea pigs including 119 involving abandonments and 317 about neglect.
Our animal welfare expert, Dr Jane Tyson, said:
Sadly guinea pigs, along with other small companion animals like rabbits and hamsters, are very misunderstood.
They can be seen as a great 'starter pet' for children but they actually have very complex needs, with a varied diet and access to plenty of space needed to ensure their welfare.
We do see instances of abandonment and neglect every year and even in 2020, this was no exception.
Survey to find out how owners keep their guinea pigs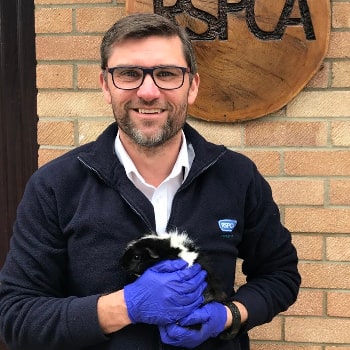 This year we've teamed up with Burgess Pet Care and other animal welfare charities including PDSA, Blue Cross and Wood Green The Animals Charity to raise awareness of guinea pigs during the first ever Guinea Pig Awareness Week.
Guinea pigs are social animals
Burgess Pet Care carried out a survey of pet owners which highlighted that 11% said they only have one guinea pig with 19% having five or more. Guinea pigs are social animals and benefit from the company of other guinea pigs if they're neutered (males) and introduced in the right environment.
Lots of outdoor space to exercise
More than half of the people surveyed - 66% - said they kept their guinea pigs mostly indoors as they were worried about safety and warmth. While it's lovely that people include their guinea pigs as part of the family and share concerns about them, they would also benefit from some time outdoors as they do need a lot of space to exercise and also enjoy the opportunity to graze on growing grass. Traditional hutches sold in pet shops and garden centres are not big enough for small animals like rabbits and guinea pigs - they can be active for up to 20 hours a day.
Guinea pigs need lots of hay and leafy greens
Only 7% of those surveyed said they fed muesli to their guinea pigs - this is really positive as they should be fed lots of hay (which 97% said they did feed) and fresh food such as leafy greens. Good quality hay should be constantly available and a daily portion of leafy greens are part of a well-balanced diet as well as being good for dental and digestive health. Guinea pigs have special dietary needs and it's important their diet contains sufficient vitamin C, which can be provided by feeding leafy greens and a fresh portion of guinea pig nuggets each day.
Pet insurance and vet checkups
Whilst most owners (78%) said their guinea pigs are registered with a vet, 96% said they don't have pet insurance for their pet. We'd recommend guinea pigs are seen by a vet regularly especially if you have any concerns about your guinea pig, or notice anything has changed in their behaviour. Like other prey species, the signs of ill health are often subtle. It's important not to ignore changes in appetite and activity levels.
Some of the abandoned guinea pigs from 2020
Ditched in a dirty carrier
Two guinea pigs named Lillith and Effie were abandoned on 30 December 2020 outside our Brighton Animal Shelter in Patcham, in a dirty carrier. The little creatures were cold and terrified and although they were left with food and water, there was no bedding inside the carrier.
Dumped with a burst abscess
Two female guinea pigs were found dumped in a cage in a remote spot in Bromsgrove, Worcestershire, in March this year. The female guinea pigs were found in a cage that was about a metre long but here was no food or water inside. One of them had a burst abscess on her rear end. Both are now in our care at Gonsal Farm Animal Centre in Shropshire and are recovering well from their ordeal. Once they've recuperated they'll be found a forever home.
Left on a layby
Blackberry and Bramble were found dumped in a layby on New Year's Day on the B3147 near Dorchester. Thankfully we collected them and took them to our Ashley Heath Animal Centre where they were then adopted by one of our Animal Care Assistants.
Dumped by some bins
In March inspector Simon Hoggett picked up a guinea pig abandoned near some bins in a block of flats in a shoebox on Capitol Way, London. Sadly, although it was hoped the guinea pig could be rehomed, and he was taken to our branch, the stress of his ordeal meant he died just a few hours after being rescued.
If you're thinking about adopting a guinea pig, take a look at our find a pet.
---