Unwell puppies found in poor conditions find their forever homes
Love is all around for a group of puppies now in their forever homes after they were rescued from poor conditions and covered in faeces.
Police attended a property in Buckinghamshire back in July 2021 and found 17 puppies living in poor conditions without a mother present. They contacted the RSPCA for help and Special Operations Unit (SOU) officer Kirsty Withnall went to assist.
The puppies - a mix of cocker spaniels and Cavalier King Charles spaniels - were of differing ages, from eight weeks to three months. There were no adult dogs on site. Some of the puppies were ill and were being kept in unsuitable conditions, some in a white van and others in pens with dog crates.
One puppy had a cable tie around its neck that was so tight it had to be rushed to the vet on police blue lights because rescuers couldn't remove it.
The case concluded in January 2023 when four members of a family were sentenced after being found guilty of not meeting the needs of the puppies.
The man from the family also faced offences of making false representations, under the Consumer Protection Act from Unfair Trading Regulations 2008 and also for causing unnecessary suffering to a male Cocker Spaniel type puppy by failing to remove a tight-fitting cable tie from the animal's neck resulting in tissue damage.
The pups were first placed in foster care and then rehomed with the help of staff at RSPCA Blackberry Farm Animal Centre.
Rehomed puppies
Meet five of the successfully rehomed pups with their new owners:
Henry
The pup found with a cable tie around his neck - has found a loving home with Richard and Viola Martin, who live in Suffolk.
Richard said:
He was born to run and just loves running on the sand. He's very sociable and thinks every dog wants to play with him.
He's always been happy wearing a collar and a harness and has never flinched. Henry's always smiling, considering what he has been through he's so happy.
He's such a part of the family - we're season football ticket holders and he'll sit in a seat in between us! He's crazy and goofy - and has settled in so well.
Belle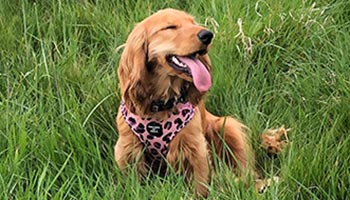 Belle has been with her owner since November 2021.
She's just beautiful. She's very affectionate and lively and is a bit of a class clown! She always has a sock or a slipper to carry around.
She's really friendly, although nervous at the beginning she has come on leaps and bounds. I was aware she didn't have the best start in life and had to spend some time in kennels due to the diseases she had. I am so glad that I was able to give her a forever home.
Lady
Another of the pups - named Lady - has been rehomed to Callum and Aimee from Cambridgeshire who says has come a long way since they first met.
Callum said:
Though she was always more than happy to meet people and spoil them with love, she was terrified of doorways, the car, and most noises that caught her off guard.
It wasn't long before she settled right into our home and changed our world. Now she's the first one through the door, she loves to join us in the car on adventures no matter how far away and is completely unfazed by anything that doesn't involve food or cuddles. She's the first one awake each morning and straight onto our bed to wake us up too.
She loves to be outdoors and get the wind in her ears which flap around all over the place. She's the most affectionate, loving but goofy little dog and never fails to put a smile on the face of everyone who meets her. We're so lucky to have found her and grateful to the RSPCA for letting Lady join our family.
Bailey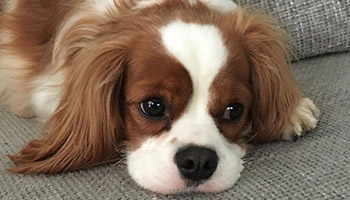 Amanda Foster from the Royal Borough of Windsor and Maidenhead, adopted Bailey who says is the "most beautiful little soul". She continues:
He's gentle, playful and has endless cuddles and kisses to give. As a first-time dog owner, I couldn't have got a better puppy. He made himself at home straight away.
He's always slept through the night, toilet training was easy, he travels well in the car, and he also enjoys train trips! And walks well on the lead unless he spies a squirrel! He really is the most lovely little boy.
Polly
Oliver and Kylie from Oxfordshire rehomed Polly.
Oliver said:
She loves to be the centre of attention and is always happy and just loves everyone.
Her heart races when she sees people. Her favourite things are her walks and she just wants to go everywhere with us.
Ruby
While another of the pups - Ruby - who has been adopted by Lauren Whittaker, said:
She's such a lovely, friendly pup who is very happy and is always after a cuddle! We feel very lucky to have her in our family. We are so pleased and proud to have rehomed her and given her a loving home.
As part of the case, the police found adverts on Pets4Homes for cocker spaniels for £1,300. The advert said the puppies were born to be a 'family pet' and had been health-checked, vaccinated, and treated for fleas and worms. The advert said the puppies had been 'raised in a busy household'.
Further investigations discovered adverts online that showed an estimated £62,520 worth of puppies - of different breeds - had been posted between 7 April and 25 July 2021 using four different names, five different phone numbers, eight email addresses and eight addresses.
The council told investigators that the property did not have a licence for breeding or selling.
SOU Inspector Kirsty Withnall said:
These puppies had been taken away from their mothers and moved to a strange location where they mixed with other puppies of differing ages. They were being kept in completely unsuitable conditions and one had a cable tie tight around his throat and had to be rushed to vets to have it removed.
Thankfully all of the puppies were removed, placed into foster homes and have since been rehomed, and it's just wonderful to see them doing so well with their new families.
How you can help
Could you offer a loving home to a rescued dog? Find out more about rehoming a pet today.
To help the RSPCA continue rescuing, rehabilitating and rehoming animals like these pups, please donate online or call our donation line on 0300 123 8181.
---