null
Proposed ban on keeping pet monkeys a 'fantastic Christmas present'
Proposed ban on keeping pet monkeys a 'fantastic Christmas present'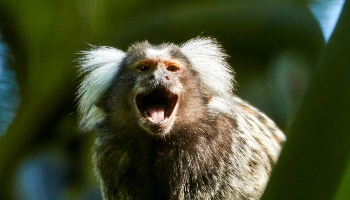 We're pleased with a Government consultation on plans to ban the keeping of primates as pets.
We've been calling for a complete ban on the keeping and trade of primates as pets for many years because it's not possible to meet these animals' needs in a domestic setting.
Dr Ros Clubb, our senior scientific manager, said:
We're delighted that a ban on keeping primates as pets is now in sight - it's a fantastic Christmas present. We look forward to reading the government's proposals in detail and hope that the legislation will deliver an end to the keeping and trade of primates as pets.
Primates are intelligent, sentient and highly social animals with complex needs that simply cannot be met in a domestic environment.
Just like humans, primates can become depressed without adequate stimulation. They need a spacious and enriched environment that challenges their intelligent brains and allows for them to behave as primates should. But, sadly, our inspectors are still seeing shocking situations where monkeys are cooped up in bird cages, fed fast food, sugary drinks or even Class A drugs, deprived of companions of their own kind, living in dirt and squalor and suffering from disease.
We regularly see primates that have been kept as pets with behaviour problems and very poor health, especially Metabolic Bone Disease (rickets in humans), as a result of totally inappropriate care. We fear that what we're seeing may be the tip of the iceberg with many suffering behind closed doors because people do not know how to look after these animals properly.
A ban on keeping monkeys as pets can't come soon enough.
An estimated 5,000 primates* are being kept as pets up and down the UK including marmosets, capuchins and squirrel monkeys.*
*Data obtained by Wild Futures through Freedom of Information requests to local authorities in England, Wales and Scotland show that 269 primates were licensed under the Dangerous Wild Animals Act (DWAA) in 2013. This figure was used to calculate the present estimate of around 5000 by: a) accounting for 85-95 percent non-compliance with the DWAA, thus the 269 represented 5-15 percent of the actual number kept and b) b) including species de-listed from the DWAA in 2007, based on previously collected data. Note that this does not include species like marmosets which have never required a licence.