RSPCA rescue dog who 'flew the flag for Staffie' retires after an eight-year police career
Stella the Staffie helped to break the unfair stereotype given to Staffies when she became the UK's first of her breed to join the police.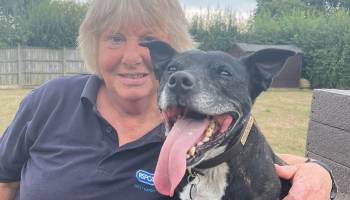 An unwanted dog who was rescued by the RSPCA before becoming one of the UK's first ever Staffordshire bull terrier police sniffer dogs has hung up her badge after a 'stellar' eight-year career.
'Stella the Staffie' was taken in by RSPCA West Hatch Animal Centre, in Somerset, in 2013 when she was found roaming the streets by an RSPCA inspector. Her skills and potential were spotted by kennel supervisor Sue Dicks who realised she had a special talent and got in touch with her police contacts who'd taken rescue dogs on for working before.
Sue said:
She loved to play fetch and had a real talent for finding the ball. I'd hide it in lots of places and she'd always locate it.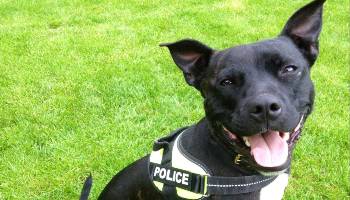 Sue contacted the police and, on 17 January 2014, PC Claire Todd came to collect the rescue to join Gloucestershire Constabulary's training programme. She later qualified as a cash, drugs and firearms detection sniffer dog - believed to be only the second Staffordshire bull terrier at the time in such a role - and hit the streets with PC Todd.
Stella is trained to search for drugs including heroin, cocaine and ecstasy; money including Sterling and Euros; and guns and ammunition.
The day after qualifying, during her first live search, she found a £200 case hidden inside a drawer. Since then, PD Stella has spent eight years working tirelessly to help PC Todd and her four-legged partner German Shepherd PD Quest fight crime, catch crooks and keep the public safe.
In October 2015, PD Stella was honoured with a special award at the Animal Hero Awards - organised by the Daily Mirror in partnership with the RSPCA - where she was named Public Service Animal of the Year.
Stella has helped to change the unfair public perception and stereotype that Staffies have been plagued with through her police work and presence on social media - where she has more than 28,000 followers on Twitter - and by appearing at events such as Crufts.
The 10-year-old retired on Saturday (17 September).
PC Todd - who will adopt her as a pet when she hangs up her police badge - said:
Stella is still loving life and really enjoyed working, although she did start to slow down over her final six months. I think she's ready to retire now and it's time for her to chill out on the sofa and be totally spoiled after giving so much of her life to the police and the public.
I'm so proud of her, she's had an incredible career. Time has flown by since she became my police dog in 2014. I'll be sad not to have her by my side when I'm out working, but I'm so pleased that I'll get to come home to her every day. She's such a special dog and she's achieved so much in her life, particularly given her poor start.
Before retiring, Claire and Stella went to visit Sue, at West Hatch, in August to catch up with her. Sue added:
It's great that the police took a chance on her - she isn't your typical police dog but she gets the job done. We're so proud of everything she's achieved and that she's flown the flag for Staffies and really shown everyone how wonderful they can be.
While Stella may have hung up her badge, she's been helping PC Todd train the next generation of police dogs, such as RSPCA rescues PD Marshall and PD Bonnie, who both qualified earlier this year.
To help the RSPCA continue rescuing, rehabilitating and rehoming animals just like Stella, please donate online call our donation line on 0300 123 8181.
---