Parsnip the 'chug' left out in the cold after being abandoned in park
A little dog was found abandoned beside a filthy pet carrier in London on a cold wintry day.
The tiny brown dog - a young adult female - was spotted by a passerby sitting beside a pet carrier on Thursday 19 November in Langthorne Park, Leytonstone. They took the little dog to a vet nearby and called us.
Dumped with a pet carrier
Our inspector Chris McGreal went to collect the frightened and emaciated dog and said:
The poor little dog was very skinny and was so small the caller initially thought she was a puppy.
Chris continued:
"She'd been found sitting beside a plastic, cream-coloured pet carrier with a metal wire door. In the cage was a blue bowl full of dried food and inside was absolutely filthy, covered in faeces. It's not clear how long the poor dog had been there but she was clearly very disoriented and frightened. They were concerned because she was struggling to use her back legs.
"The passerby who found her took her to a vet nearby and tried to comfort her until I arrived. I wrapped her in towels to try to warm her up and rusher her to Harmsworth Animal Hospital."
Chug collapsed because she was so malnourished and cold
Staff have now named the dog - thought to be a Chihuahua cross pug (also known as a 'Chug') - Parsnip and are keeping her in for monitoring.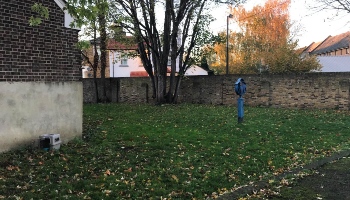 Chris added:
Vets confirmed that she was emaciated, dehydrated and had a very low body temperature. The people who found her were concerned she had broken back legs as she couldn't stand but vets can't find anything wrong with her and believe she'd collapsed because she was so malnourished and cold.
"Thankfully, after a few days at the hospital getting lots of TLC, she's doing much better and is expected to make a full recovery."
Abandoned rather than getting help
Chris added:
"Parsnip is showing signs of neglect but, instead of asking for help or seeking care, her owners have coldly decided simply to abandon her so she isn't their problem anymore. It's heartbreaking.
"Parsnip was very lucky that she was found when she was and that she's now getting the love and care that she so desperately needs.
"I'd like to hear from anyone who recognises her, knows where she's come from or saw anything suspicious in the area on Thursday to contact our appeal line on 0300 123 8018."
---