Otter with deep fishing litter wound rescued by us and other otter rescue organisations
An otter with a severe wound from a plastic fishing line that had cut deep into her belly has been rescued by us along with the Otter Network and the UK Wild Otter Trust.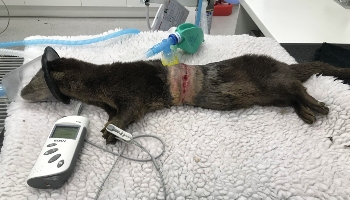 After a number of sightings of the stricken female otter both south of the Tyne on the River Don, and north of the Tyne on Wallsend Burn over a six-week period, a rescue plan was put in place to trap her so she could be treated for her injuries. On Saturday (27 February), the complex plans ended in success when the otter was safely caught near Wallsend Hall and rushed to a local vet for her wounds to be treated before being admitted to our Stapeley Grange Wildlife centre for long-term care and rehabilitation.
Rescuing the otter took time and patience
Our national wildlife co-ordinator, Geoff Edmond, said:
"Over the previous six weeks or so, the wounded otter had been spotted in a number of locations along the river. Rescuing her was an absolute priority but we knew how challenging this would be, particularly as she was ranging so widely.
"Trapping an otter isn't a straightforward process - there are various hurdles to get through before the otter can finally be caught. This includes obtaining a licence from Natural England to legally trap and take the otter. This was turned around very quickly for our rescue team.
"We needed to pinpoint a place where we would be able to trap her successfully so when she moved to the grounds of Wallsend Hall, we started a programme of feeding her bait with the help of the Otter Network in the North East.
"Otters are incredibly wary, so it was a slow process, but eventually she became used to it. Using a series of trail cameras, we were then able to identify exactly the right place to position the trap, kindly lent to us by the UK Wild Otter Trust.
"To our relief, the otter finally went into the trap under her own steam on Saturday morning. My colleague, animal rescue office Dave Dawson, then rushed her to nearby Vets for Pets for emergency treatment.
"She has now been taken to our Stapeley Grange Wildlife Centre, who are giving her the ongoing care and rehabilitation she needs before going back to the wild. She's not out of the woods yet, but we're all hoping she makes a full recovery and that there's a happy ending.
"We're so pleased this rescue ended in success. We'd like to thank everyone who was involved in this operation. It couldn't have happened without the collaborative efforts of several partners, including the vets, Vivien Kent at The Otter Network, who had the vital task of monitoring the otter's whereabouts and her ongoing condition over a long period and Grace Yoxon at the International Otter Survival Fund whose advice and expertise were instrumental in bringing everyone together. We'd also like to thank Dave Webb at the UK Wild Otter Trust who lent us the trap and Natural England for processing the licence application so quickly. It really was a team effort to get this beautiful animal to safety and to get her the care and treatment she desperately needed."
Fishing litter is a danger for a lot of wildlife
We're often called out to deal with wild animals which have been affected by fishing litter. These tend to be water birds such as swans and geese, but any animals, including otters, can be affected. All sorts of fishing litter can cause problems:
line can become tightly wrapped around the body causing deep wounds in flesh and cutting off the blood supply
hooks can pierce beaks, become embedded in skin or get caught in the throat
and weights can be swallowed causing internal injuries and blockages.
We strongly urge those who enjoy fishing to be extra careful to ensure nothing is left behind. Most anglers are very responsible when disposing of their litter, but it only takes one careless person to endanger the life of an animal.
We ask all those who enjoy fishing to join the Angling Trust's Take 5 campaign and make use of the Anglers National Line recycling scheme to dispose of their waste tackle and line.
Angling litter recycling points are now sited at our four wildlife centres at:
West Hatch in Taunton, Somerset
Stapeley Grange in Nantwich, Cheshire
East Winch near King's Lynn, Norfolk
Mallydams Wood in Hastings, East Sussex
There are also hundreds of other sites offering fishing recycling points throughout the UK.
Tips to help tackle the fishing litter problem
Taking unwanted fishing line home and cut it into pieces before putting it in the bin
Being aware of surrounding trees - discarded line caught in foliage can entangle wildlife
Don't leave bait unattended - always remove from the hook and put it in a safe place
Use a bait box - this will reduce the chances of leaving behind an empty bait tin by mistake
Don't leave hooks, weights or other paraphernalia behind
Find out more information on fishing litter.
To help us continue rescuing, rehabilitating and rehoming animals in desperate need of care please donate online or call our donation line on 0300 123 8181.
---