Celebrations one year on from bold strategy launch
We're celebrating the first year of our ambitious new strategy to tackle cruelty and create a nation that is kinder to animals.
We're pleased the first year of our bold new strategy has been a success after a number of major victories including the introduction of tougher sentencing for animal abusers, increasing supporter numbers and the introduction of flexible working and family-friendly initiatives that make it a leading employee in the charity sector.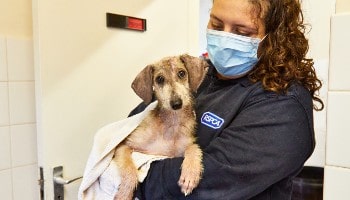 Chief executive Chris Sherwood said: "When we launched our bold new strategy we not only had big ambitions for how we wanted to reduce cruelty and neglect across England and Wales, and create a nation that is kinder to animals; we also wanted to make the RSPCA a better place for our dedicated staff to work.
"We're thrilled with the strides we've made in the first year of this 10-year strategy, especially during the particularly challenging context of the Covid pandemic.
"We have got off to an incredible start, thanks to the passion, enthusiasm and dedication of our people, partner charities and our amazing supporters but there's still more to do to continue to move towards our goal of creating a world where all animals are respected and treated with kindness and compassion."
Our first-year achievements
Since the launch of our new strategy - Together for Animal Welfare - on 28 January 2021, together with partner organisations, and thanks to our incredible supporters we have achieved a vast amount of work and celebrated a number of achievements, including:
Our frontline teams received more than 1 m emergency calls, dealt with 281,000 incidents, and took more than 25,000 animals into care;
Following years of campaigning, we saw the introduction of the Animal Welfare (Sentencing) Act 2021, increasing the maximum sentence from six months to five years;
After lobbying the Government for years our teams were thrilled when ministers pledged to ban the live export of farm animals, enshrined animal sentience in legislation, committed to licensing sanctuaries and rescues in Scotland (with consultations on similar measures in England and Wales, introduced compulsory microchipping for cats, and banned the private keepership of primates as pets;
Following years of work to tackle the puppy trade and call for tougher measures to crackdown on the problem, we saw a third party sales ban extended to Wales and Scotland, as well as a Government agreement to raise the age puppies can be imported into the UK to six months and block the import of pregnant bitches and cropped dogs;
Sparked by concerns of rising crimes, specialist dog theft legislation will be added to the Kept Animals Bill;
Our campaigns team achieved 153,000 campaign actions and increased campaigners by 43% from 130,000 individuals to more than 187,000;
Over 500,000 people donated last year, our fundraising team grew our supporter base from 304,000 (2021) to 316,000 (2022), while our digital department saw our total audience grow to 1.25m and celebrated being the top animal charity on social media;
Our education team helped deliver education programmes to more than 1,000 vulnerable children and young adults and virtual sessions to more than 30,000 young people;
Following feedback from our staff, we introduced flexible working and a confidential platform where staff can make suggestions and report concerns;
We also introduced new policies, family-friendly initiatives and enhanced benefits (seeing us lead the way in the charity sector) to ensure we create an inclusive culture;
We have launched a recruitment drive for our latest batch of frontline animal rescuers, with a focus on equality, diversity and inclusion;
We're also thrilled to have, for the first time in 10 years, a full board of directors.
With the strategy providing a roadmap to 2030, we still have big plans and much, much more to achieve to make the UK a global leader for animal welfare. We already have some exciting plans coming up, including:
Improving standards for farm animals, phasing out the use of animal in testing and research, challenging the popularity of dogs, cats and other animals being bred for characteristics that cause suffering, and tackling illegal hunting;
Publishing a collection of essays by leading social commentators and launching our annual Wilberforce Lecture to open up the debate around animals at a societal level;
Focusing on our vital education and prevention work to provide support and advice, particularly to hard to reach groups;
A focus on further improving our rescue and care of animals most in need;
Launching the Kindness Index and investigating how we can measure cruelty and achieve our goal of reducing cruelty by 50%;
Planning exciting celebrations to mark our milestone 200th anniversary in 2024.
'We need everyone's support to achieve our ambitious goals'
Chris said: "Working to be there for animals during the pandemic has been one of the greatest challenges we've ever faced but we're pleased that we've adapted and evolved to come out stronger so that we can continue to be there for the animals who need us the most."
He added:
Over the last year we dealt with 280,000 incidents and rescued 25,000 animals showing the need for the RSPCA is as great as ever. But we need everyone's support to achieve the ambitious goals we've set out in our strategy. So we're asking everyone - our people, our supporters, other agencies and charities, and the communities in which we operate - to help us ensure that no animal is left behind.
The new strategy revealed our aims to ¿reduce¿ ¿neglect¿ ¿and¿ ¿cruelty¿ across England and Wales ¿by¿ ¿half¿ ¿by 2030, create a million-strong movement for animals, end severe suffering of animals used in science and significantly improve the lives of millions of farm animals.
Chris added: "I'm incredibly proud of what the RSPCA has achieved in the first year of our new strategy, thanks to the hard work of our staff, partners and supporters. We set really ambitious goals and it's good to see progress being made towards them.
"We have some exciting work planned including publishing a collection of essays and hosting an annual lecture which aims to advance understanding, innovative thinking and debate about the relationship between humans and animals - with the belief that animal welfare matters not just because animals are sentient but because how we as individuals and a society relate to animals has important implications for how we relate to each other and to the natural world.
"Facilitating these conversations will start us on the path to establishing an independent public body, specially dedicated to focus on welfare, and start us on a path to a new way of understanding and valuing the relationship between humans and animals."
---