Our key workers answered almost one million calls and rescued 23,000 animals during one year of lockdown
Our key workers answered almost one million calls and rescued 23,000 animals during one year of lockdown
We have answered almost one million calls and taken in more than 23,000 animals since the start of lockdown one year ago.
We've had to adapt the way we work to comply with lockdown rules and social distancing but have continued to rescue, rehabilitate and rehome animals during the pandemic. One year on, we're looking back at some of our amazing achievements, despite the challenging times.
We've had to adapt how we work
Our chief executive, Chris Sherwood, said:
The last year has been incredibly difficult for individuals, for families, for businesses, for charities and for animals. But I'm incredibly proud of the work the RSPCA has managed to do during this challenging year.
We've had to adapt how we work, change our procedures, review our practices, and all while we continue our vital everyday work rescuing, rehabilitating, rehoming and releasing animals, and investigating animal cruelty.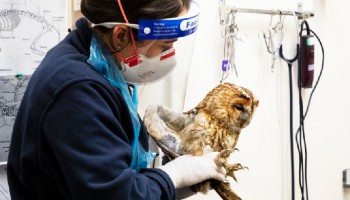 Since 23 March 2020, our key workers have been busy answering emergency calls, rescuing animals in urgent need, investigating reports of animal cruelty and neglect, taking in abandoned animals, and rehoming rehabilitated animals to wonderful new families.
Over the past year, we have:
Received 958,352 calls to the hotline
Dealt with 253,714 urgent incidents
Responded to 14,532 incidents of abandoned animals
Taken 23,228 animals into care at our national centres, hospitals and private boarding partners - including 12,977 wild animals, 4,537 cats, 1,887 dogs, 505 rabbits, and 548 horses
Secured 498 convictions and convicted 246 defendants, despite huge court delays due to lockdown
Education projects have reached tens of thousands of children, teenagers and young adults, including 6,240 classes who signed up to the Compassionate Class scheme and 2,696 youngsters who took part in Wild Things.
We've been virtually rehoming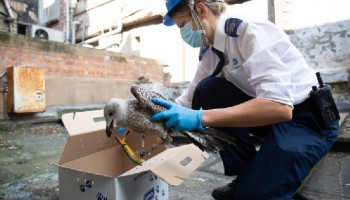 Our inspectors and animal rescue officers were designated key workers and continued to respond to emergencies and urgent calls, as well as rescuing animals in need.
Our hospitals continued to provide emergency vet care, the call centre continued to answer calls and staff at our 14 animal centres, four wildlife centres and branches continued to care for the animals in their care.
We've had to adapt our way of working in order to adhere to the Government's ever-changing guidance including changing the way we rehomed. In order to adhere to social distancing and avoid unnecessary travel, we've been virtually rehoming and delivering pets to their new homes, with thousands of animals going off to new homes and foster families since 23 March.
Our top 10 lockdown rescues
A badger was rescued after getting his bum stuck in a gate in Essex on 21 February 2021
Two badgers needed help after getting trapped on a ladder in a canal in Wales on 5 February 2021
An owl ended up in a spot of bother after getting stuck in an extractor fan in a disused hotel kitchen in North Yorkshire on 18 January 2021
A woman had a fright when a swan crash-landed through her bathroom window in Nottinghamshire on 11 January 2021
A seal needed rescuing after dragging himself into a treadmill warehouse in Wales on 11 December
A gas meter reader had a shock when he found a corn snake wrapped around the pipes in a gas box in Hampshire on 25 November 2020
Pudding the cockapoo puppy had to be cut free after getting wedged under a reclining chair in Hampshire on 27 October 2020
A squirrel got stuck in the back of a fridge in London on 30 September 2020
A newborn calf's life was saved after he was spotted drowning in a muddy bog in Greater Manchester on 31 May 2020
A thirsty fox cub got his head stuck in a watering can in Kent on 14 April 2020 and needed a helping hand.
Despite the hardships we face, we will always be there for the animals
Chris added:
"Over the past 12 months we've demonstrated our commitment to animals and shown that, despite the hardships we face, we will always be there for the animals who need us. But the pandemic has hit us hard; we've had to change how we work, suspend door-to-door fundraising and cancel fundraising events.
"The charity sector has been hit hard by the pandemic so we're asking the public to get behind us, to donate, and to help us continue our vital work; together we can make this a better world for animals."
---