One-eyed one-eared cat looking for retirement home
A golden oldie is looking for her fur-ever home after surviving major surgery to remove her entire ear and one eye.
Moggy Suki is 19 (or 92 in cat years!) and arrived at Harmsworth Animal Hospital in April with a terrible ear wound. She was taken into a foster home, organised by Friern Barnet Adoption Centre in North London, before undergoing surgery earlier this month.
Georgina Holding, from the centre, said: "When Suki was brought into us she had an awful ear wound and vets had to remove her ear canal and outer ear. Due to complications during the operation, vets also had to remove one of her eyes when they found an ulcer."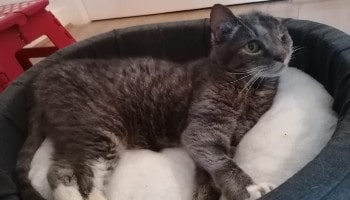 Staff managed to trace Suki's owners - as she was microchipped - but they said she'd moved out two years earlier and had mainly been living outside, being fed by neighbours, and they decided they didn't want to take her back. Her chip showed she had been born in 2002, making her a grand age of 19!
Georgina added: "Suki's health check has been good and all of her test results have come back as normal so, despite her age, she is in good general health. She is sometimes stiff and struggles to walk and needs help to keep her face clean."
She continued:
She's a lovely, sweet cat who loves to be stroked and will purr when she's getting attention. We'd love to find her a relaxing, loving home where she can live out her days - however many she has left - in comfort.
Suki doesn't like to be in the car so staff would like to find a local home to minimise travel time and avoid her being too stressed. She'd like an adult-only home ideally without other pets.
Find out more about Suki on Find A Pet or contact 0300 123 0594 or friernbarnetadoptions@rspca.org.uk.
---