One-eyed bulldog Lola puts horrific neglect behind her with summer camping fun
Lovable Lola was found with seven other dogs living in appalling conditions in the back of a urine-smelling van.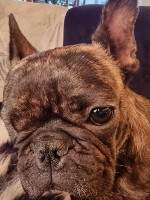 The four-year-old's eyeball was left untreated for so long that it became badly infected and she needed to undergo surgery to have it removed. Lola was also malnourished and was suffering from scabs and sores on her coat as well as a skin condition when she was discovered by an RSPCA inspector.
Eight months on from her ordeal she looks like a different dog after settling in well with her new owner in their Nottinghamshire home.
Rachel recalls:
It was partly by chance that we got to find out about Lola as she had moved in with one of the vets who had treated her until she was well enough to be rehomed.
My daughter saw a video of her running up and down and when we heard she had been neglected and ill-treated we knew she had to come to be with us. Our old dog had passed away and we were looking for a companion for Floki.
She was so thin when she came here last December and you could tell she hadn't had the best start in life because of the shape of her body. She's still a bit bow-legged. But Floki was so gentle and calming and helped her settle in and they love each other loads.
We're so grateful to the RSPCA and are supporting their Join the Christmas rescue campaign so they can save more animals like Lola who we wouldn't be without.
The vet who treated Lola reported that her prolapsed eye was in such a poor condition it was likely her former owners had neglected seeking treatment for at least four months.
It healed up nicely before she was rehomed and the disability hasn't affected her mobility, although her new owners say they need to be mindful of some limitations with her vision. They steered her through a difficult settling-in period, which was not helped by a "phantom pregnancy".
Lola hit it off famously with the family's Springer cross, Floki, and the pair have been enjoying the summer sunshine by holidaying together in the family's converted St. John's Ambulance campervan.
Rachel added,
She was producing milk for six weeks, but she has been spayed now. Her eye has healed up amazingly - the vet has done a fantastic job with it. She looks like a different dog now and she's so playful.
She sometimes walks into the room and takes a hard left, so we have to be aware to steer her around. And when we give her a treat we have to put it on the side of her eye so she can pick it up.
After all she's been through she's so affectionate and very protective of us - she sleeps on our bed, and she's like a little bouncer.
It's absolutely horrific to hear that people could be so cruel to her. She was the victim of long-term neglect, but she deserves to be loved and cared for and we are so grateful to the RSPCA for doing such a great job rescuing her.
The charity is concerned that with the increase in pet ownership and the cost of living crisis putting a strain on people's finances, more animals will be coming into its care during the next few months.
Our frontline teams are working hard to rescue animals in need this winter but we can't do it alone - we need your help please donate and support the RSPCA.