One dog is victim of intentional harm every hour
Dogs are widely regarded as man's best friend - but they're also the most persecuted pet in England and Wales.
Our new figures show dogs are four times more likely to be the victims of intentional harm compared to cats. While there are an estimated 12 million dogs and 12 million cats being kept as pets in the UK (according to the PFMA Pet Population Report) dogs are much more likely to be the victims of deliberate cruelty.
As part of our Cancel Out Cruelty campaign, we've released new figures that highlight how - despite being called 'man's best friend' - dogs are the most likely pet to be abused by their owners. Over four years (2016-2020), 63,881 incidents of intentional harm involving dogs were reported to our cruelty line; that's 34 a day or more than one every hour across England and Wales.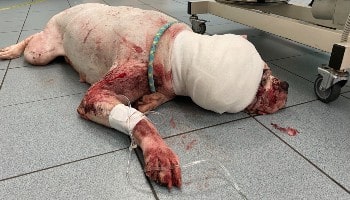 The campaign aims to raise funds to keep our rescue teams on the frontline saving animals in desperate need of help as well as raise awareness about how we can all work together to stamp out cruelty for good.
Dog welfare expert Dr Samantha Gaines said: "We say we're a nation of animal-lovers and that dogs are man's best friend. And yet, every year, we see many dogs coming into our care bearing the physical and mental scars that were inflicted at the hands of the very people who were meant to keep them safe and love them unconditionally.
"Some of the cases I've seen have left me in tears and still stay with me today. Every time my own RSPCA rescue dog, Flo, comes to curl up beside me on the sofa I wonder what she suffered at the hands of people before she was found wandering the streets of London with a badly broken leg. Did someone do that to her deliberately? It doesn¿t bear thinking about."
She added:
We've seen some of the most unimaginable cruelty inflicted on these gentle, sweet creatures. We've seen them beaten, drowned, set on fire, and poisoned. Our officers have been able to save some of them; getting to them just in time and finding them collapsed, bloodied, and hopeless. Others have died at the hands of their tormentors, but none should experience such cruelty.
Dogs have been attached with machetes, beaten with wood and hung from trees
Our frontline officers investigate thousands of cases every year. Cases such as:
German shepherd Bella was rescued by passersby in Nottinghamshire after she was left to drown having been thrown into a river tied to a rock;
American bulldog Smiler was found soaking wet, bloodied and barely conscious in a bath in West Yorkshire with human shampoo and cleaning products in her eyes;
American bulldog Ruby was found collapsed in Merseyside with a machete wound to her head which had almost completely severed off her ear;
A ten-week-old American bully puppy was found with cropped ears and a broken neck wrapped in a pink Bag For Life, taped with sellotape and left on the bins in Kent;
Bull lurcher Bruce - a suspected badger baiting dog - was found wandering in Cumbria with puncture wounds to his skull, thought to have been caused by being beaten with a bit of wood with a nail sticking out of it, and burns caused by being set on fire;
Welsh border collie Prince died having been hung from a tree by a rope;
Staffie Milly was beaten to death and buried in communal gardens in Staffordshire - a post mortem found she had eight fractured ribs of different ages, a fractured hip joint, collapsed lung, lacerations on the liver resulting in internal bleeding and bruising to the head caused by blunt force trauma;
American bulldog Hector had scars all over his body, believed to have been caused by cigarette burns, when he was chained up and abandoned outside RSPCA Leeds, Wakefield & District branch;
Eight-month-old presa canario Rico cowered and wet himself in fear as his owner kicks and stamps on him, captured on CCTV in a lift in the West Midlands;
XL bully Dora and her littermates were just a few months old when they were rescued from Bristol; their ears had been hacked off so they could be sold on for more money with the desired - but illegal - cropped look;
Rottweiler Lulu was heard on audio recordings whimpering and screaming as her owner, from Bristol, attacked her, shouting: ¿I¿ll f*cking ave you¿;
Mastiff Oreo¿s owner, from London, admitted to RSPCA investigators that his dog was `battered¿ after he¿d `given him a beating¿ to teach him a lesson following complaints from neighbours;
Six-month-old Staffie puppy Bronson was left with a fractured skull and brain injury after being kicked for defecating in the house in Hampshire.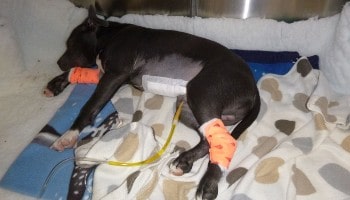 We receive around 84,000 calls to the cruelty line every month and around 1,500 of those are about intentional cruelty. But the charity sees a rise in the summer by around 400 calls, on average, per month, which equates to 47 calls every day or two every hour.
In 2020, 7,691 reports of intentional harm against dogs were reported to us and, over summer (June - August) in particular, we received 2,053 reports.
Our rescue teams need support to stay out on the frontline rescuing animals and investigating cruelty:
£6 could help pay to feed a dog for a day in our care;
£10 could help pay towards bandages for a cat or dog;
£15 could help pay for a cat or dog¿s clinical exam.
---