The RSPCA's Newbrook Education Centre celebrates £300k funding at launch event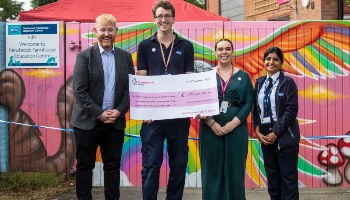 The RSPCA's Newbrook Education Centre held an official launch event on 8 September to celebrate being awarded £300,000 in funding from the National Lottery to continue its work helping young people in the Birmingham community.
The centre works with children and young people to teach them about animal welfare, build confidence and boost their mental wellbeing. After a small pilot of the Birmingham Wild Things project during the pandemic, the centre officially launched on Thursday and will be expanding its offering following vital funding from the National Lottery of nearly £300k.
Rob Moffat, community engagement manager at RSPCA Newbrook Education Centre, said:
We find that the connection many young people have with animals is something they just don't have with people. Animals instinctively draw out our caring and compassionate side; they can be a welcome break for busy and worried minds and they allow us to feel a level of non-judgement that we often don't feel with other people.
Uniting young people and spreading the word of animal welfare and wellbeing enables those on the project to talk about their own issues, acknowledge their mistakes and strive to be better, kinder people which we hope will in turn create a more compassionate society and help to prevent cruelty to animals in the future.
Following the course, 97% of young people said they saw a positive impact on their mental health as a result.
'Birmingham Wild Things' welcomed its first young people to the project in 2020, as the pandemic hit. This meant the outreach activities planned in the community could not go ahead but the centre still wanted to provide a physical place for children and young people to come and learn and feel supported.
Between July 2020 and July 2021, they supported 421 young people with mental health needs through a series of six-week programmes. This was a scaled-back version of what they now hope to achieve thanks to funding from the National Lottery.
Young people are referred to the programme through partner organisations, such as the police, Barnardos, Birmingham Children's Trust or the NHS. Those referred may be experiencing behavioural and mental health difficulties and are often disengaged with education or work or may be struggling with something in their lives.
Rob added:
As part of the programme, they learn about the needs of animals, their feelings and emotions and are taught about how to better the welfare of animals. A key focus is also on biodiversity and the environment with horticulture activities helping them to learn about what plants benefit wildlife and even growing plants to feed the rabbits and other animals in the RSPCA's care. They also learn more about the RSPCA with careers advice and volunteering opportunities.
On Thursday, staff, volunteers, partner agencies and guests were invited along to a cheque presentation followed by a tour of the centre with the opportunity to take part in a range of activities which the young people carry out on the course. This includes building bird and bat houses, horticulture, and taking part in the vet role play room.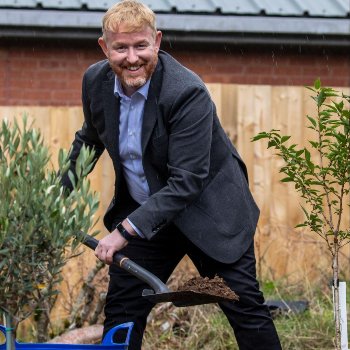 Chris Sherwood, RSPCA's chief executive, was also in attendance, said:
I'm incredibly proud of the work the RSPCA Newbrook Education Centre is doing here. Not only does it benefit animals by teaching the next generation about their needs but it also benefits young people in the community, which has been really heartening to see. Prevention is very important to us at the RSPCA to help tackle animal cruelty in the future and we know that educating the next generation in order to create a kinder, more compassionate society is vital in achieving this.
Find out more about our prevention work.
Partner organisations who refer young people to the centre also came along on the day, including West Midlands Police, Barnardos, and Birmingham Children's Trust, as well as peer mentor Mollie Swadkins, who previously took part in the course and now helps other young people.
Jonathan Oldham, Barnardo's children's services manager, said:
We've been working alongside the RSPCA for 18 months and being able to offer this unique opportunity to our young people has been fantastic. We've seen their confidence grow and they're really enjoying the experience. It can sometimes be challenging to engage young people in educational activities but this has been a huge success and we're extremely proud of the commitment our young people have shown to the course.
Anne Crawford-Docherty, divisional director of Psychological Therapies for Forward Thinking Birmingham (FTB), which also refers young people to the project, said:
We're so pleased to hear that this project has been awarded funding from the National Lottery, so it can continue to provide these amazing opportunities for young people in Birmingham. The course has already helped young people in FTB on their recovery journey, with many participants saying how the RSPCA project has provided opportunities and the motivation to make changes in their lives.
We're really proud of Callum Moore, psychological therapist and mental health nurse at FTB, and other members of our service, for working with the RSPCA to develop and deliver this unique and life-changing project.
How you can help
For more information visit education work at the RSPCA.
Animals play a significant role in children's lives - and the RSPCA is also calling for animal welfare to feature on the school curriculum, and be taught in schools, in England and Wales.
---