New home at last for long stay Lilly
A rescue pony who was overlooked for five years as she waited to be adopted has finally found a forever home.
After she was discovered in 2013 neglected, emaciated and collapsed when she was just a year old, Lilly was saved by our animal rescuers and taken into the safety of our care.
But despite making a full recovery, life continued to look a little bleak for poor Lilly after five years passed with no successful interest in adopting her. That is, until summer last year when Claire Blyth came along and offered the mare a perfect home.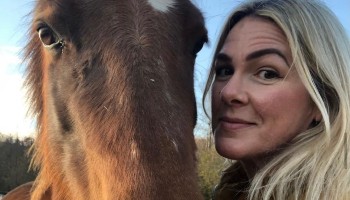 Claire, who lives in Lincolnshire, was on the lookout for a companion for her 16.2hh Irish draft mare Bear, and after spotting Lilly on our website, she knew straight away she wanted to meet her.
Claire said: "I knew I wanted a companion horse, something that couldn't be ridden and didn't need to be worked, and it was important to me to rescue a horse, particularly one that had maybe struggled to find a home. When I saw Lilly's picture and spoke to Anna at RSPCA Southridge and heard about Lilly's story, everything just fell into place."
Lilly was trapped in barbed wire, emaciated, starving and fighting for her life
Lilly came into our care after she was found abandoned and neglected with several other horses seven years ago. She was trapped in barbed wire, emaciated, starving and fighting for her life, and her recovery was touch-and-go for some time, as she regularly had to be helped to her feet. She was still just a youngster, and it took her several months to start fighting back and regaining her health.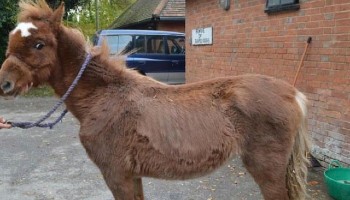 After Claire carried out a 'virtual' tour of her stables as per our covid safe rehoming policy, all that was left was to arrange a day for Lilly to arrive at her new dwellings, and in June Claire made the journey to collect Lilly. She said: "Lilly and Bear instantly hit it off which was fantastic, in fact, during their very first night together in the paddock they broke out and I came to find them the next morning roaming around the fields.
It's lovely to see Lilly so settled and she loves attention, she follows me around the field when I poo-pick demanding to have her bum scratched. At 13.3hh, Lilly may look mini but she is mighty. She is full of character and I'm just so glad I can offer her a lovely quiet life and give her lots of attention and love."
We couldn't be happier that Lilly is so settled in her long-awaited forever home
New Forest crossbreed Lilly has always been full of character, very cheeky and incredibly intelligent, and was a firm favourite with the equine team at RSPCA Southridge Animal Centre in Potters Bar, Hertfordshire.
Anna White, centre manager at RSPCA Southridge said: "We couldn't be happier that Lilly is so settled in her long-awaited forever home. She's always been a very bright pony and ever since she came to us she always picked things up quickly like opening gates and undoing bolts!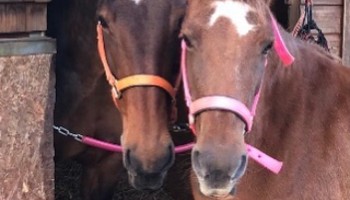 "During the time she was here with us, she bonded very closely with another long-stay horse we had named Hope. Thankfully both were adopted within a few months of each other which is a lovely ending to their story, and I'm particularly delighted that Lilly has now formed such a strong bond with Claire's other horse Bear.
It's lovely that both adopters now follow each other on social media too and keep up to date on each other's progress. Lilly's story shows that there is an ideal home out there for every rescue horse and although sometimes it may take longer than we'd like to find it, it's always worth the wait."
Join the Rescue
Throughout the winter months, we expect to rescue thousands of animals from neglect, cruelty and suffering. Already this winter, we have received more than 82,000 calls. The calls to our rescue line are not stopping, so either will we. To help our rescue teams continue to reach the animals who desperately need us, #JoinTheRescue.