Miniature Shetland pony found terrible tethering injuries
The RSPCA says a miniature Shetland pony who was dumped on a riverbank in Doncaster with a horrific neck injury may not have survived much longer without treatment.
The wound on the little pony - who is only about the size of a Labrador dog - was so serious that the muscle had started to rot away leaving her veins exposed. This is believed to have been caused by a tether.
RSPCA inspector Tamsin Drysdale, who is investigating the incident, says it was one of the worst injuries of its kind she had seen in her 16-year career with the charity.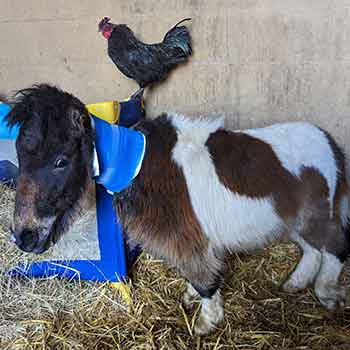 Described as 'extremely sweet-natured,' Thumbelina as she has been named, is now under veterinary care and making good progress at the home of an RSPCA fosterer, where she has a new stablemate - Roy the cockerel.
A member of the public raised the alarm after the miniature Shetland was found wandering next to the River Don at the Jubilee Bridge in Thorne on Saturday 18 March. Inspector Drysdale attended the scene and was able to catch her, before arranging transport and urgent veterinary treatment.
It's not known how long Thumbelina had been next to the river and where she may have come from, although a barbed wire fence on nearby land had been cut. The long-standing wound is thought to have been left untreated for many weeks.
She wasn't microchipped and the RSPCA is appealing to anyone who recognises her or has information that could help their investigation, to contact the charity's appeals line on 0300 123 8018.
Inspector Drysdale said:
When I approached Thumbelina I could smell the wound before I could even see it. The flesh was literally rotting away under her mane and she was obviously in terrible pain and discomfort. She was understandably distressed and it would have taken many weeks of neglect, if not longer, for her to have deteriorated into such an awful state.
She's receiving antibiotics and pain relief and the wound on her neck is currently being cleaned, flushed and re-dressed daily. The vet is pleased with the progress she's making. It's going to take time, but we're cautiously optimistic that she will go on to make a full recovery.
She's a very sweet-natured little girl and is already beginning to show that sassy nature that Shetlands are known for, so we hope that's a sign she's beginning to feel a little better!
I don't think she would have survived much longer without veterinary intervention. The rain was torrential later that night and there was also the possibility that she could have fallen into the river, given the distressed and disorientated state she was in.
The little pony is also receiving treatment for an abscess on her lower gum and sadly has deformed back legs, which could have been caused by her being tethered for long periods of time.
Although tethering is not specifically illegal in itself, the RSPCA does not recommend it as a viable way to keep equines because of a number of welfare issues associated with the practice. The charity receives about 5,000 complaints about tethered horses every year.
Anyone with specific concerns about tethered horses should call the RSPCA on 0300 1234 999 or another equine charity such as World Horse Welfare.
Fostering is just one way that people can volunteer with the RSPCA - and the charity is currently also recruiting 'Wildlife Friends' as part of the Big Help Out, a mass community volunteering initiative in the lead-up to the Big Help Out.
Wildlife Friends includes a choice of simple ideas to help wildlife on the doorstep either on your own, or as part of your family or group of friends, or even with the wider community.
For example, volunteers could:
Organise a litter pick
Plant wildlife-friendly plants in gardens and window boxes
Build nest boxes for wild animals
Put food out for hedgehogs or create a hedgehog highway
Get together with their neighbours to start a wildlife project
Join 'No mow May' and make a habitat for butterflies, bees and insects in gardens
Recreate wildlife-friendly ideas from RHS Chelsea
Join online social media groups and signpost RSPCA advice about wildlife
More information about getting involved can be found at the RSPCA's Big Help Out.
---