Microchipped cat found in garage is reunited with owners 4 months after going missing
A cat who went missing for more than four months has been reunited with her family thanks to the work of the RSPCA and the power of a microchip.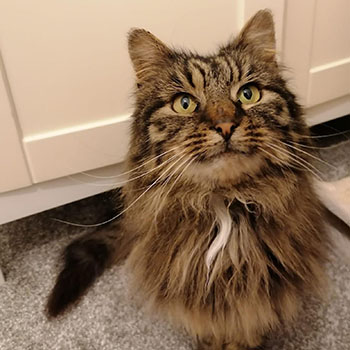 Roxy was discovered in a garage at a commercial property in High Street in the Norton area of Stockton-on-Tees, County Durham after leaving the family home a mile-and-a-half away last October.
Her owner, Rob Harris, believes she was trying to return to the family's former address in Norton and had been living rough before taking refuge in the garage.
The owner of the garage fed Roxy some fish and contacted the RSPCA for help.
Animal Rescue Officer Shane Lynn scanned Roxy's microchip and was able to make contact with Rob.
He then used a cat trap to coax Roxy out of her hiding place in the garage and she was soon heading back to her home in the Roseworth district of Stockton.
Rob said:
"The whole family, myself, my partner and three kids were pleased to have her back. She was a bit ragged but she had been getting fed.
"We've had her for nine years from a kitten. It is the second time she has vanished, but we were concerned this time.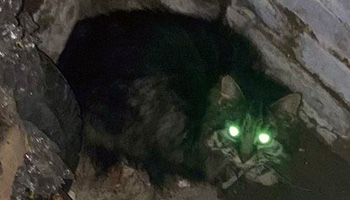 "Where she was found was close to where we used to live, so I don't know if she was trying to go back to our old home.
"She's very much a house cat, but she slipped away when my partner was putting some rubbish into a bin. We were thinking we weren't going to see her again, but we'd had her microchipped and we put an appeal on social media."
The RSPCA advises all owners to microchip their pets so as to offer the best chance of them being identified and returned if lost.
Microchipping is a legal requirement for dogs
It is a legal requirement to have dogs over the age of eight weeks microchipped, while rules on the compulsory microchipping of cats are to be introduced by the Government after strong public support during a consultation.
Currently though many cats are not microchipped and, unlike Roxy, face never being reunited with their owners should they go missing.
A microchip inserted by a vet under the animal's skin provides the pet with a unique code which can be scanned and matched with the owner¿s contact details on a database.
The animal rescuer said:
Microchipping of cats is nowhere near as commonplace as we'd like it to be.
The majority of cats I pick up aren¿t chipped. Doing it means it is so much easier to make contact with their owners.
Roxy had been living in the garage for three weeks. Her owner had moved house and it looks like she was trying to get back to the old address.
I set a cat trap to bring her out and she was fine. The family's children were very pleased to have their cat back.
To help the RSPCA continue rescuing, rehabilitating and rehoming animals in desperate need of care please donate online or call our donation line on 0300 123 8181.
---