Dog who sparked owner's mental health recovery set for walking challenge
An Epsom woman and her pooch are set to take on a walking challenge to raise money for animals in need, as well as celebrate her successful personal battle with anxiety and depression.
Clare Ware and her pooch Bear will be taking part in the RSPCA's virtual dog walking challenge 'My Big Walkies' next month. The event, which takes place throughout March, is open for dog owners and walkers to sign up.
From one mile a day or one hundred miles across the whole month, the challenge can be tailored to suit every dog and their owner. Anyone and everyone can take part and raise money by sponsoring friends and family, which will all go towards helping the RSPCA rescue animals throughout 2023.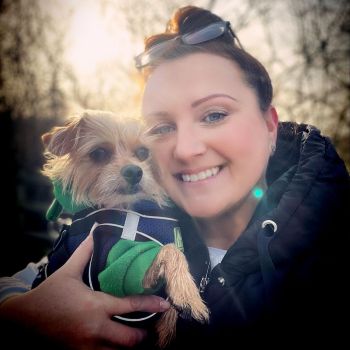 Clare, 50, decided to take on the My Big Walkies challenge not only to raise money for the RSPCA, but to raise awareness of the benefits that pet ownership, and walking, can have on mental health and wellbeing.
The RSPCA's new strategy - 'Together for animal welfare' - highlights how animals can help people with loneliness or mental health issues – providing purpose, companionship and meaning.
Clare said:
I'm excited and nervous to commit to a walking challenge like this, but knowing it's for such an amazing cause in the RSPCA will keep me going.
As a recovering mental health warrior, I know exactly how debilitating life can seem when you're struggling, and how the thought of even just leaving the house can seem like a mountain to climb. I also know how uplifting it can be to go out for a walk, even just a mile a day, and in particular, I know first-hand how sharing your life with a pet can transform you. Bear brought me back to life.
In the midst of enduring a mental health breakdown that began several years ago, Clare found herself unable to carry out everyday tasks from food shopping to simply leaving the house for a short walk or evening getting into the shower. After six years of battling alone, it was a discussion between her and her best friend Jan about the benefits of owning a dog that sparked an interest. After carefully considering the prospect, Clare was introduced to a tiny little ball of fluff she now calls her best friend, and she's never looked back.
She said:
I thought very long and hard about whether it was right to get a dog, given the depth of my struggles. For several months I considered everything from cost to providing the dog with exercise, and whether I was going to be able to offer a home to an animal. Though I already had my beloved budgies, Bert and Ernie and Rose and Doris, I knew a dog would be on a different scale.
But I decided the time was right, and as soon as I met Bear, who was just a couple of months old then, I knew we were meant to be together. He'd even already been nicknamed Bear, which had been my nickname for years - so it seemed like a sign! We've been inseparable since, and even though I still face struggles every day and have an ongoing painful battle with fibromyalgia, I had no idea just how much he would help my recovery and transform my life.
In the almost two years since Bear came home with Clare, her well-being has steadily improved, from walking every day and chatting with other dog owners, to volunteering for local charities including a local Riding for the Disabled Group, where Clare is currently helping to build an improved sensory garden for the visiting riders. Bear can be found in the garden too, showing off his 'zoomies' and delighting visitors.
Clare added:
Bear helped me to open myself up to the world again by simply being by my side. I watched him grow and investigate new things, and I realised I was investigating them too. I've realised wellbeing and mental health are always going to be a work in progress, but having Bear with me means I am never alone, and he's always reminding me to look forward.
I can't wait to get going with My Big Walkies next month, and I really hope that anyone in a similar position to me will be inspired to sign up too. It doesn't matter how far you pledge to walk, every step forward is an achievement. Knowing that through my efforts I'll be helping to raise awareness for the RSPCA and support their amazing work helping animals makes it all the more worthwhile too. This is something I can do to help, and I can't wait!
Clare and Bear have committed to completing a mile a day throughout March, and the pair are well on their way to reaching their fundraising target of £250, which will go a huge way in helping the RSPCA continue to rescue, rehabilitate and release animals who have been neglected or cruelly treated, and see them safely into loving new homes.
The animal welfare charity saw a shocking 25% rise in the number of abandonment and a 13% rise in neglect incidents being dealt with by its rescue teams last year - as the cost of living crisis continues to bite. By pledging their own My Big Walkies miles throughout March, RSPCA supporters will be raising essential funds to help RSPCA rescuers be there for animals in need.
RSPCA data suggests half of the owners (44%) walk their dogs twice a day, so completing a mile on each walk will clock up to 60 miles at the end of the month, and with no minimum sponsorship target, the challenge is accessible to anyone and everyone.
When dog walkers sign up for My Big Walkies, an Enthuse online fundraising page will be set up at the same time. Participants can then simply follow the instructions to add their photo and story, set their fundraising target and then share the link and encourage people to donate online in a few clicks. Every dog that is signed up will receive a My Big Walkies bandana to wear with pride.
If you've been inspired by Clare and Bear's story and you'd like to join in with My Big Walkies, sign up for free on Enthuse.