M&S leading the way for animals with new 2022 chicken commitment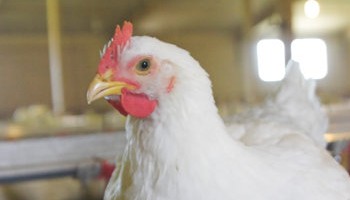 The RSPCA has praised Marks & Spencer's "fantastic commitment to animal welfare" as it becomes the first major retailer to exclusively stock slower-growing, higher welfare chicken across its fresh produce range.
In a first-of-its-kind move, M&S will expand its slower-growing, higher welfare chicken stock to cover all of its fresh chicken products by Autumn 2022.
All M&S fresh chicken will also be labelled RSPCA Assured - the charity's dedicated farm animal welfare assurance scheme, promoting better welfare outcomes throughout a farm animals' life.
The RSPCA has now urged other supermarkets to follow suit - as new polling by Savanta ComRes for the charity reveals 69% of UK adults believe supermarkets should improve meat chicken welfare as part of their sustainability goals.
M&S' decision follows the launch of the RSPCA-backed Better Chicken Commitment (BCC) - urging retailers to procure all their chicken to a selection of higher welfare criteria by 2026. The retailer had already committed to the BCC, but will now go even further and act even more quickly by switching to RSPCA Assured for all its fresh chicken produce by next Autumn.
RSPCA chief executive Chris Sherwood said: "We are delighted that M&S has made this fantastic commitment to animal welfare, which will make them the leading retailer in the UK on chicken welfare.
"The most commonly used breeds of meat or 'broiler' chickens have been specially bred and genetically selected over the years to grow very fast in a short space of time, that many often struggle to walk or stand, and can suffer from severe heart and circulatory issues, as well as usually not being given enough space to easily move around and be active.
"By simply switching to using only slower growing, higher welfare breeds of chicken, retailers can make an enormous difference to the lives and welfare of millions of chickens reared in this country every year for their meat.
"By switching to RSPCA Assured, M&S can assure their customers that they are buying higher welfare chicken, reared to the RSPCA's higher standards - throughout their entire range. It's a landmark achievement for animal welfare and a formidable step from M&S, which we hope will set a leading example for others in the sector."
M&S Food Managing Director, Stuart Machin added: "M&S has a long history of leading on animal welfare standards, working with our M&S Select farmers we know and trust. We were the first retailer to sign up to the Better Chicken Commitment, the first major retailer to move to 100% Free Range eggs and all our pork is 100% outdoor bred.
"We already have the biggest range of RSPCA Assured products on the market but we constantly want to raise the bar - that is why we are making this industry-leading commitment. It will lead to a step-change in UK farming standards and show customers that our determination to maintain the highest welfare standards means they will always get exceptional quality and trusted value at M&S."
Sadly, many major retailers in the UK continue to stock intensively reared meat chickens that can suffer from growing too fast.
Fast-growing breeds can face less active lifestyles, higher mortality, breast muscle diseases and are too often unable to live like chickens should - spending less time perching than other breeds.
More than 191,000 people have already signed a change.org petition - launched by Chris Packham, and backed by the RSPCA - calling on the UK's leading supermarkets to stop selling suffering and instead back the Better Chicken Commitment.
Claire Williams, RSPCA campaigns manager, added: "M&S' announcement is amazing news - and we hope it will encourage other supermarkets to act.
"We know customers want to see this happen. More than seven out of ten people want to see chicken farmed to higher welfare standards, and similar numbers think supermarkets should improve meat chicken welfare as part of their sustainability goals. But sadly, for too many chickens stocked by supermarkets, it remains a case of: Eat. Sit. Suffer. Repeat.
"It's been incredible to see over 190,000 people back the change.org petition urging supermarkets to act. As M&S announce this complete switch to slower-growing, higher welfare chicken across its fresh produce range, we hope even more animal welfare advocates will sign the change.org petition and urge other supermarkets to follow their lead."
Find out more information on the RSPCA's work to urge supermarkets to stock higher welfare chicken produce.
---